Sweet and Spicy Tomatillo Dogs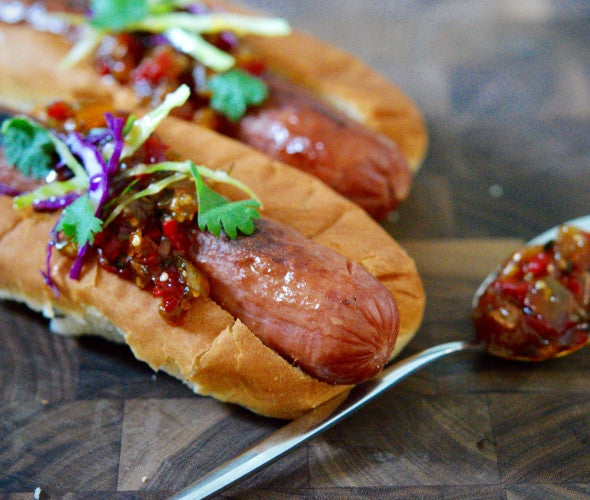 Overview
---
:20
Prep Time
:35
Total Time
EASY
Skill Level
4
Servings
Ingredients
---
(4) 44 Farms Franks
1 c Sweet and Spicy Tomatillo Relish 
1/4 c Tajin Mayo 
1/2 c Cilantro Slaw
4 Hot Dog Buns
1/4 c Onions (small diced)
1/4 c Red bell peppers (small diced)
1/4 c Anaheim peppers (small diced)
2 tsp Garlic (minced)
1 c Tomatillos
2 Tbs Apple Cider Vinegar
1 tsp Tomato Paste
1/2 c Sugar
2 Tbs Cilantro (chopped)
1 tsp Lime Juice
1 1/2 tsp Jalapeño (small diced)
1/2 c Mayonnaise
1 Tbs Tajín seasoning
Combine all ingredients together
1/2 c Green Cabbage (julienned)
1/2 c Red Cabbage (julienned)
1/4 c Cilantro (chopped)
1 Tbs Canola Oil
1 Tbs Apple Cider Vinegar
1/4 tsp Salt
Combine all ingredients together
Instructions
---
"SWEET AND SPICY TOMATILLO DOG"
Lightly oil buns and toast inside over medium-high heat.
Grill or sear hot dogs for about 5 minutes to heat through.
Place 1 Tbs. of Tajín Mayo on bun, top with hot dog, 2 Tbs. relish and 2 Tbs. cabbage slaw.
"SWEET AND SPICY TOMATILLO RELISH"
Sauté onions, red peppers and Anaheim peppers. Cook for 3 minutes until tender.
Add garlic and combine. Cook for 1 minute.
Add tomatillos. Cook for 2 minutes.
Add vinegar. Cook for 2 minutes.
Add sugar. Cook for 4 minutes.
Add tomato paste and stir in the jalapeños, lime juice and cilantro.
Remove from heat and chill.
Chef's Tip
The relish can keep in the refrigerator for a week. You can find the Tajin Seasoning in the Mexican aisle of the grocery store.