Simply Seared NY Strip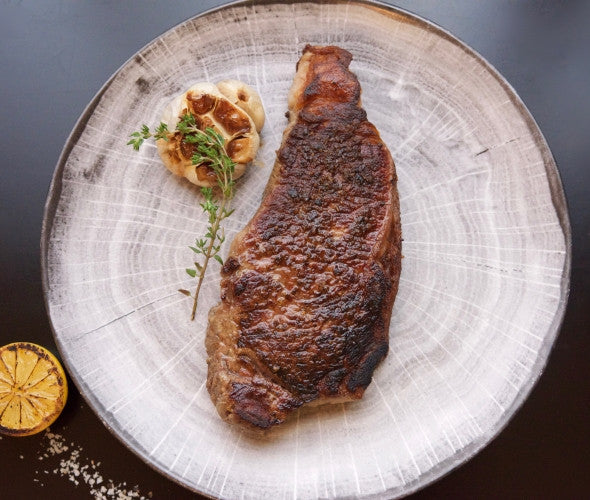 Overview
---
:3
Prep Time
:15
Total Time
EASY
Skill Level
2
Servings
Ingredients
---
1 Tbs Canola Oil
2 Tbs Unsalted Butter
4 Sprigs Fresh Thyme
4 Garlic Cloves (whole)
Instructions
---
Season each steak with 1 tsp. of Salt & Pepper blend on both sides.
Heat cast iron pan over medium-high heat for about 3-5 minutes or until hot.
Add 1 Tbs. oil in the pan.
Place steaks in hot pan and let cook for three minutes on one side. Flip and sear for an additional three minutes on the other side.
dd in thyme, garlic cloves and butter.
Baste steaks with the butter on both sides for one minute each.
Remove steaks from the pan and let rest for 5 minutes before serving.
Chef's Tip
This cooking time yields a Medium Rare steak. For a rare steak decrease the cooking time to 1 1/2 minutes on each side. For a medium steak increase the cooking time to 4 minutes on each side, Medium-well to 5 minutes on each side.Make sure to keep your exhaust fan on high. There will be a lot of smoke. If you have an outdoor stove top, this would be a great recipe to cook outdoors.