SKIRT STEAK PASTA SALAD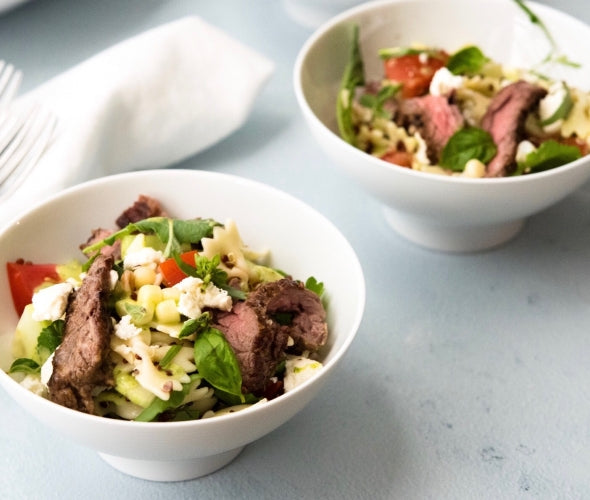 Overview
---
10 MIN
Prep Time
30 MIN
Total Time
EASY
Skill Level
6
Servings
Ingredients
---
Skirt Steak Pasta Salad
1 lb 44 Farms Skirt Steak
1 Tbs 44 Farms Salt & Pepper Blend
1 lb Mini Farfalle Pasta
1/2 Red Quinoa
1/2 c Farro
1 1/2 c Corn Kernels
1 Cucumber (peeled and quartered)
1 Vine Ripe Tomato (large diced)
2 c Baby Kale
1/2 c Feta Cheese
1/4 c Basil Leaves (chopped)
2 Tbs Oregano (chopped)
2 Tbs Tarragon (chopped)
1–2 c Fresh Herb Avocado Dressing (see recipe below)
Fresh Herb Avocado Dressing
1/4 c Red Wine Vinegar
1/4 c Lemon Juice
2 tsp 44 Farms Salt & Pepper Blend
2 Garlic Cloves
1/4 c Parsley
2 Tbs Oregano
2 Tbs Tarragon
1/4 c Basil
1/4 c Avocado
1/2 c Canola Oil
2 Tbs Olive Oil
Instructions
---
Cook farfalle pasta, farro and quinoa according to packaging instructions. Cool and set aside in a large bowl.
Remove steaks from packaging and pat dry. Season skirt steak with salt and pepper blend. Grill or sear in a hot pan for 2-3 minutes on each side. Set aside to rest for 10 minutes.
Place corn kernels in a microwave safe bowl and cover with water. Add 1/4 tsp salt. Microwave on high for 1 1/2 minutes. Strain water off corn and let chill in the fridge.
Combine vegetables and herbs into large bowl with pasta and grains.
Toss pasta salad with 1 cup of dressing. Add more dressing if you desire a creamier salad.
Season with additional salt and pepper, if needed.
Once steak has rested and cooled, cut skirt steak in half and then begin slicing against the grain of the beef about 1/4 inch -1/2 thick.
Toss skirt steak and feta cheese in pasta salad and serve.
Combine all ingredients in a blender and puree until smooth.
Chef's Tip
Red quinoa can be found in the organic aisle of the supermarket. White quinoa can be substituted. Cutting steak against the grain makes a much more tender steak.