Skirt Steak Enchiladas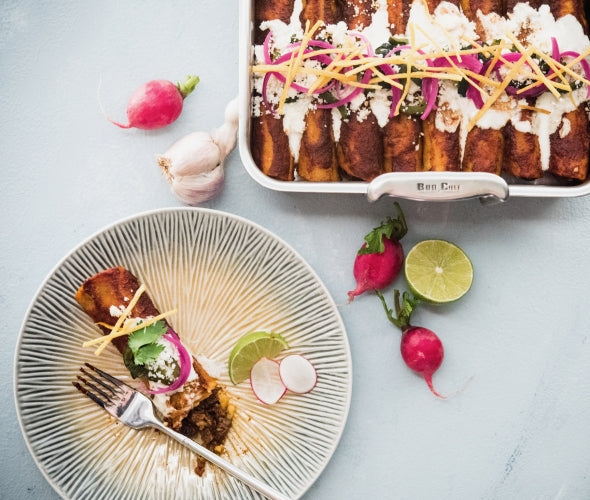 Overview
---
30 MIN
Prep Time
45 MIN
Total Time
EASY
Skill Level
4
Servings
Ingredients
---
Enchiladas
1 lb 44 Farms Skirt Steak
2 c Adobo Sauce (see recipe below)
1 c White Onion, small diced
3 Tbs Garlic, minced
8 oz Quesadilla Cheese, shredded
1/2 c Poblano, roasted
1 c Mexican Crema
1 Tbs fresh Mexican Oregano
1 Tbs fresh Thyme
1/2 c Cilantro Leaves
12 6-inch thin Corn Tortillas
4 oz Cotija Cheese, crumbled
1/2 c Radishes, shaved
1 c crispy Tortilla Strips
1 Lime, cut into 6 wedges
Adobo Sauce
6 oz dried Ancho Chilis
4 Garlic Cloves
1/2 tsp Cinnamon
1/2 tsp Cumin
1 Tbs dried Mexican Oregano
2 tsp dried Thyme
1/3 c Apple Cider Vinegar
1 Tbs 44 Farms Salt & Pepper Blend
2 1/4 c Boiling Water
Instructions
---
Remove skirt steak from packaging and pat dry with a paper towel. Place in a large plastic zip lock bag and pour in 1/4 cup of adobo sauce. Zip bag and gently mix sauce around skirt steak to coat. Let sit for 30 minutes or up to a day.
Place poblano pepper on a baking tray and rub with a little vegetable oil. Place in a 450º oven and roast until skin is blistered, about 15 minutes.
Remove from oven and let cool. Remove skin, stem and seeds. Chop into a small dice and set aside.
Heat your grill or cast iron pan to cook the skirt steak.
Remove steaks from the zip lock bag and pat dry. Lightly oil grill or pan. Cook steaks for 3-4 minutes on both sides. Remove and let rest 10 minutes.
After steaks have rested, cut steaks into 1/2 inch cubes. Set aside.
Heat a cast iron pan with 1 Tbs of canola oil, sauté onions until translucent and then add garlic. Cook for another three minutes.
Add in cubed skirt steak, 1/2 c of adobo sauce, fresh thyme, oregano, quesadilla cheese and poblanos. Mix together.
Heat a cast iron pan with 1/2 inch of canola or vegetable oil. Heat to 350º over medium-high heat. Once it reaches temperature, reduce heat to medium.
While oil is heating, place 1/2 c of adobo sauce in a bowl and whisk in 2 Tbs of water. Pour sauce in a baking dish. This dish will be used twice for coating tortillas with sauce and baking enchiladas.
Working with one tortilla at a time, place one tortilla in the hot oil for five seconds on each side. Then, coat it in adobo sauce on the baking pan and set aside. Repeat until all tortillas are done.
Place 3 oz of enchilada filling in each tortilla and gently roll up.
Place enchiladas seam side down in baking pan that has adobo sauce.
Heat remaining adobo sauce in a small sauce pan and add more, if desired, once enchiladas are removed from oven.
Garnish with crema, radish, cilantro, crumbled cotija and crispy tortilla strips. Serve lime wedges on the side.
Remove stem and seeds from chiles. Set aside in blender and pour boiling water over top. Cover and let sit for 10 minutes for chiles to soften.
Add in remaining ingredients and puree until smooth.
Set aside until ready to use.
Chef's Tip
Adobo sauce can be made ahead of time and stored in the refrigerator. Prep marinated steak and garnishes ahead of time for easier preparation. If you can't find crispy tortilla strips in the store, you can make them ahead of time yourself. Using same corn tortillas, cut into thin slices and fry until golden in a high-side heavy bottom pot.