LONE STAR BURGER WITH FRIES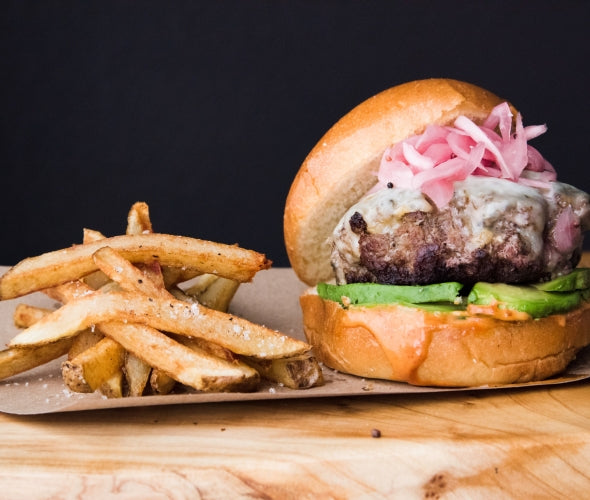 Overview
---
30 MIN
Prep Time
2 HR 30 MIN
Total Time
EASY
Skill Level
8
Servings
Ingredients
---
Lone Star Burger
3 lbs 44 Farms Angus Ground Beef
8 Brioche Burger Buns
1/4 c 44 Farms Salt & Pepper Blend
4 Avocados (sliced)
2 c Pickled Red Onions (see recipe below)
1 c Roasted Tomato Aioli (see recipe below)
8 slices Aged Cheddar Cheese
Pickled Red Onions
3 c Red Onions (julienne slices)
1 c Apple Cider Vinegar
1/2 c Rice Vinegar
1 1/2 c Water
1 1/4 c Sugar
1 Tbs Mustard Seeds
1 Tbs Fennel Seeds
1 Bay Leaf
1 Tbs Black Peppercorns
1 1/2 Tbs Kosher Salt
Roasted Tomato Aioli
3 Roma Tomatoes
1 Tbs Olive Oil
1 tsp Thyme
1 tsp Oregano
1/2 tsp 44 Farms Salt & Pepper Blend
3 Garlic Cloves
1 1/2 c Mayo
Homemade Fries
4 lbs Russet Potatoes
8 c Vegetable or Canola Oil
1/3 c 44 Farms Salt & Pepper Blend
Instructions
---
Prepare grill to high heat.
Divide ground beef into 6 oz. portions. Form each portion into a patty and make an indent in the center of the patty.
Season each patty with about 1 Tbs of 44 Farms Salt and Pepper Blend.
Brush grill grate with vegetable or canola oil and place patties on grill. Cook for 3-5 minutes on each side.
Place a slice of cheese on each patty and let melt.
Remove from grill and build your burger on the bun with pickled onions, avocado and roasted tomato aioli.
Serve with homemade fries.
Place red onion slices in a plastic container.
Combine all remaining ingredients in pot and bring to a boil.
Pour hot liquid over onions and let sit at room temperature for 30 minutes.
Place in refrigerator to cool.
Once cool, cover with a lid and store in refrigerator until ready to use.
Cut tomatoes in half and toss with remaining ingredients, except mayo.
Remove from oven and let cool.
Remove skins of tomatoes and discard.
Place all ingredients and mayo in a blender and puree until smooth.
May be stored in refrigerator up to 5 days.
Cut potatoes in half length-wise, lay flat on cut side and cut into 1/2 inch-thick slices. Flip stack up so slices are horizontal and cut into 1/2 inch-think cuts again to create 1/2 inch sticks.
Rinse potatoes, place in a container and soak with cold water for 20-30 minutes.
Heat a heavy bottom pot, dutch oven or fryer with oil over medium-high heat.
Heat oil to 300º and reduce to medium-low to maintain temperature.
Strain water from cut potatoes and dry very well.
For first fry, place 1/2 -1 lb of the potatoes into pot and let cook for 5 minutes. Remove from oil and place on a paper towel-lined pan. Let cool and repeat until all the fries are cooked.
Bring the heat of the oil up to 350º for second fry.
Place 1/4 of the par-cooked fries into oil and fry for 5 minutes.
Chef's Tip
Soaking potatoes in water will pull out some of the starch in the potato and yield a fluffier fry. First fry can be done a day before if followed by freezing the par-cooked fries. They can be fried for the second fry from the frozen state. Always remember to never fill oil in a pot more than a 1/4 full and don't over crowd oil with food you are frying. Using a digital probe thermometer can assist in getting a precise oil temperature