SIRLOIN STEAK WITH POTATO SALAD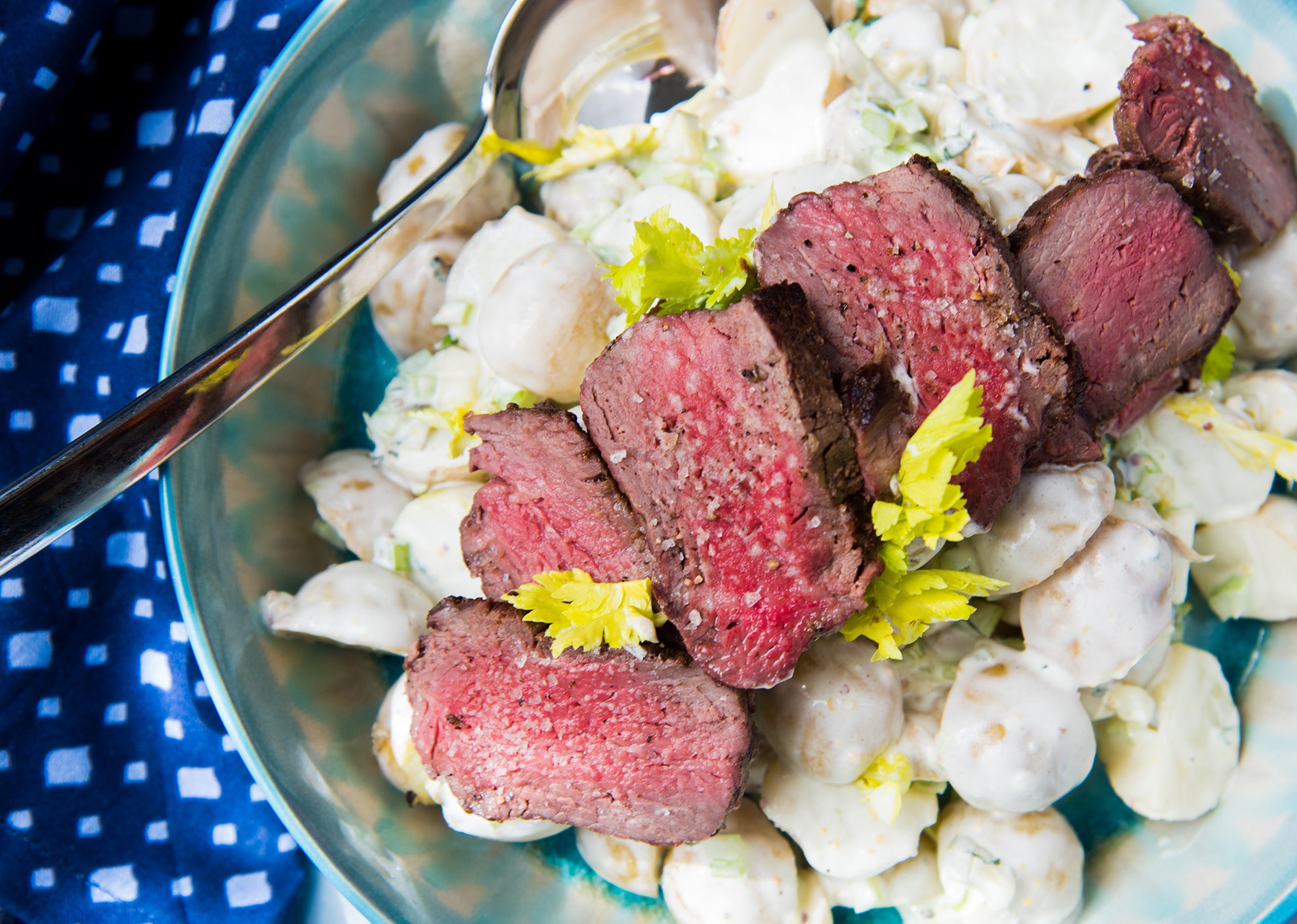 Overview
---
10 MIN
Prep Time
25 MIN
Total Time
EASY
Skill Level
8
Servings
Ingredients
---
2 lbs Small White New Potatoes
1/2 c Mayo
1/4 c Sour Cream
1 Tbs Dijon Mustard
1 Tbs Whole Grain Mustard
1 Tbs Pickle Juice
2 tsp Lemon Juice
2/3 c Celery (finely diced)
1/3 c Pickles (finely diced)
1/2 c Celery Heart Leaves
1 Tbs Oregano (finely chopped)
1 Tbs Parsley (finely chopped)
Instructions
---
Cook potatoes until tender in heavily salted water about 8–12 minutes, and let cool completely. If potatoes are large, cut in half or quarters so they are bite-size.
Mix together mayonnaise, sour cream, both mustards, pickle juice, lemon juice, celery, pickles, oregano and parsley.
Toss potatoes with dressing and place in a large serving bowl. Top with celery heart leaves.
Cover and place in refrigerator to chill.
Heat a large cast iron pan over medium-high heat.
Season steaks with 44 Farms Salt & Pepper Blend. Lightly oil pan and sear steaks for 2 minutes on each side. Finish in oven for 10–12 minutes until the internal temperature reaches 130º. Let rest 5–7 minutes, slice thin and top over potato salad right before serving.
Chef's Tip
Start potatoes in heavily salted cold water, and then bring to a boil and simmer until done. This will allow evenly-cooked and well-seasoned potatoes.