BLACK BULL BLEND COFFEE CHOCOLATE CAKE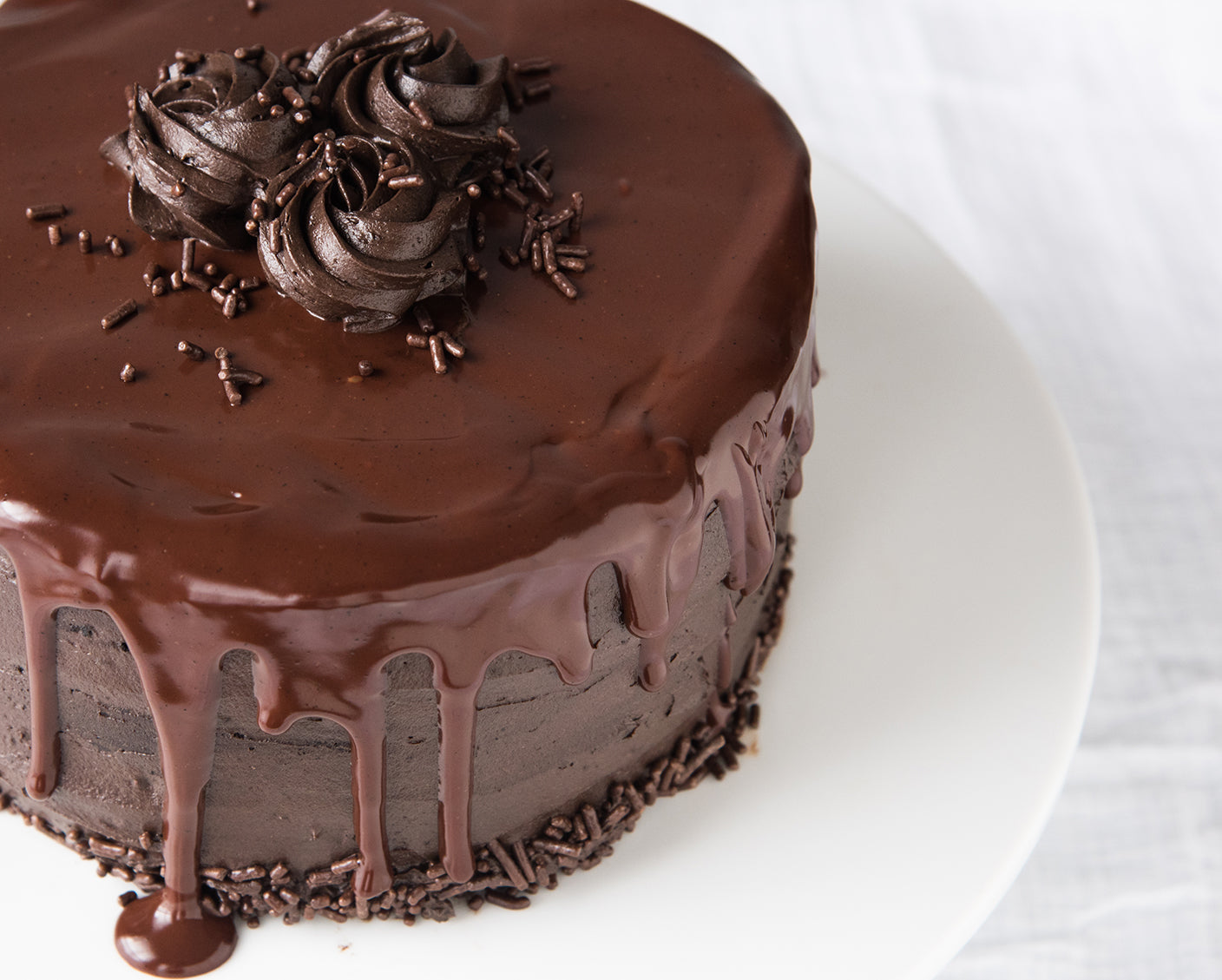 Overview
---
30 MIN
Prep Time
75 MIN
Total Time
ADVANCED
Skill Level
12
Servings
Ingredients
---
3 c All-Purpose Flour
3/4 c Cocoa Powder
1 tsp Salt
2 3/4c Sugar
2 tsp Baking Soda
2 tsp Baking Powder
1 1/4 c Vegetable Oil
3 Eggs
1 1/2 c Buttermilk
2 c Boiling Water
1/2 c 44 Farms Black Bull Blend Coffee (espresso)
1 Tbs Vanilla Extract
Coffee Ganache, recipe follows
Coffee Chocolate Frosting, recipe follows
1/2 c Chocolate Sprinkles
1 lb Unsalted Butter, room temperature
6 Tbs 44 Farms Black Bull Blend Coffee (espresso)
1/8 tsp Kosher Salt
1/2 c Cocoa Powder
4 c Powdered Sugar
3/4 c Heavy Cream
1/4 c 44 Farms Black Bull Blend Coffee (espresso)
2 Tbs Corn Syrup
2 oz Semi-sweet Baking Chocolate (roughly chopped)
Instructions
---
Prepare three 9-inch baking pans with butter and lightly dust with flour.
Prepare strong coffee by using boiling water and ground coffee with either a French press or coffee machine. Set aside and let step for 3–4 minutes.
In a large bowl, mix together flour, salt, baking soda, and baking powder.
In a separate bowl, combine buttermilk, eggs, sugar, vanilla and oil.
Mix together 1 1/2 c. hot coffee and cocoa. Mix until smooth.
Mix coffee-cocoa mixture and buttermilk mixture into dry ingredients and beat until incorporated and smooth.
Divide batter between three prepared baking pans.
Let cool for 15 minutes in the pan and then turn out. Cool completely before assembling the cake.
Cut tops off of each cake to make a flat top.
Place 1/2 cup frosting onto one cake and spread evenly. Place another cake layer on top of frosting and top with another 1/2 c. frosting. Top with the last cake layer, and frost the top and sides with the frosting. Place remaining frosting in a piping bag for decoration.
Drizzle top edges of the cake with the ganache to get the drip look. Pour about 1/4 c. ganache on the top center of the cake and smooth.
Pipe rosettes on top of the cake and garnish with chocolate sprinkles on the bottom sides and top
Beat butter, salt and Black Bull Blend Coffee in an electric mixer with paddle attachment until smooth.
Add cocoa powder and powdered sugar.
Beat until smooth, about 2 minutes.
Place chocolate in a bowl.
Combine cream, 44 Farms Black Bull Blend Coffee and corn syrup in a small pot. Bring to a boil and then strain over top of the chocolate. Whisk until chocolate is smooth. Keep warm to stay liquid enough to pour on the cake.
Chef's Tip
Cakes can be prepared day before assembling. You will need an offset spatula to frost the cake and a ½-inch star tip and piping bag for the rosette garnishes. Mixing cocoa into hot coffee allows the chocolate to be evenly distributed in the cake.