HONEY TOASTED PECAN CINNAMON ROLLS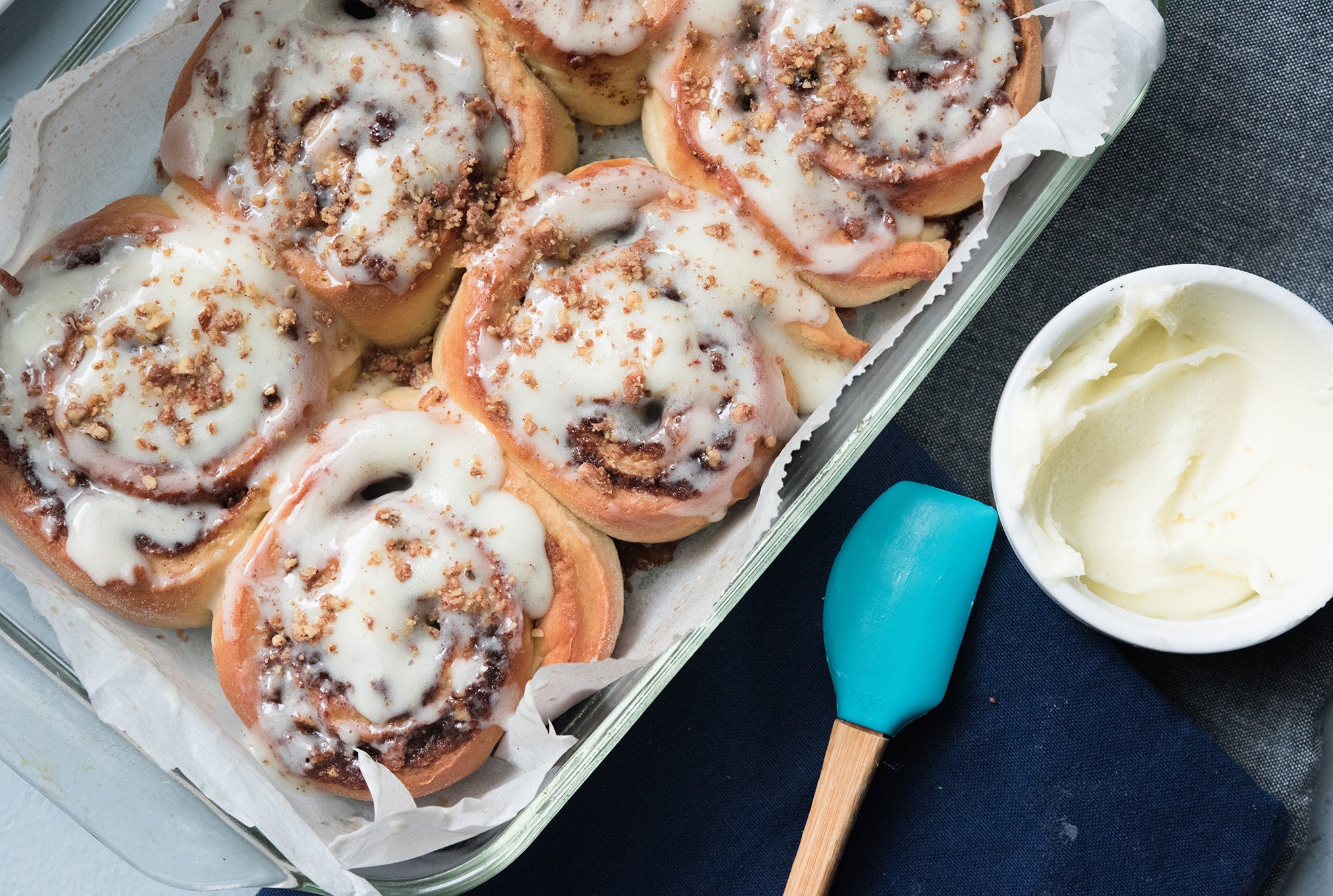 Overview
---
30 MIN
Prep Time
4.5 HR
Total Time
MEDIUM
Skill Level
12
Servings
Ingredients
---
1 c Whole Milk, 110º
1/4 oz pkg. Active Dry Yeast
1/3 c Sugar
1 Whole Egg
1 Egg Yolk
3 oz Butter (melted)
3 c Bread Flour
3/4 tsp Kosher Salt
3/4 c Dark Brown Sugar
2 Tbs Cinnamon
3 oz Butter (softened)
1 c 44 Farms Honey Toasted Pecans (finely chopped)
4 oz Cream Cheese (softened)
2 Tbs Butter (softened)
1/2 c Powdered Sugar
1/2 tsp Vanilla
1/8 tsp Kosher Salt
Instructions
---
Place warm milk into Kitchen Aid bowl and sprinkle yeast on top. Let sit for 3–4 minutes to activate it (it will begin to foam).
Once yeast begins to foam, add sugar, salt, egg, egg yolk and melted butter. Mix well with dough hook attachment.
Add flour and mix on medium speed for 8 minutes.
Dough will form a ball and be slightly sticky. Transfer dough to an oiled bowl. Cover loosely with plastic wrap and place in a warm area to proof for 1 1/2 hours. The dough will double in size.
After dough has doubled in size, place dough on a well-floured surface and roll out to 20" x 18" rectangle.
Spread soft butter over dough. Mix together brown sugar and cinnamon. Sprinkle over butter evenly, leaving a 1/2 inch boarder along the edges. Sprinkle chopped pecans over top, reserve 1/4 cup for topping after baking.
Begin rolling the dough tightly into a cylinder begging on the 18-inch side.
Cut about 1/2 inch off each end and then cut the cylinder into 12 equal portions using a large sharp knife.
Place cinnamon rolls in a 13" x 9" greased and parchment-lined baking dish. Cover loosely with plastic wrap and place in a warm area to proof until doubled in size. This should be 1-1 1/2 hours.
Preheat oven to 350º and bake for 20–23 minutes. The edges should be slightly browned.
While rolls are baking, combine the cream cheese and butter in Kitchen Aid mixer with paddle attachment. Beat until smooth and add powdered sugar, vanilla and salt. Combine until fluffy.
Cool rolls for 3–4 minutes out of the oven and then spread icing on top of the rolls. Top with remaining chopped pecans. Serve warm.
Chef's Tip
Keep any leftover cinnamon rolls in an air tight container and reheat in the microwave for 15-20 seconds until warmed. Use a food processor and pulse the pecans to get a fine chop. Overnight method — once cinnamon rolls are cut, placed in the greased pan and wrapped with plastic, they can be put in the refrigerator overnight until the next morning. In the morning, remove from refrigerator and let them rest at room temperature, still covered, until they double in size. This will take about 2 hours. Bake as directed.