SIMPLY GRILLED PORTERHOUSE STEAK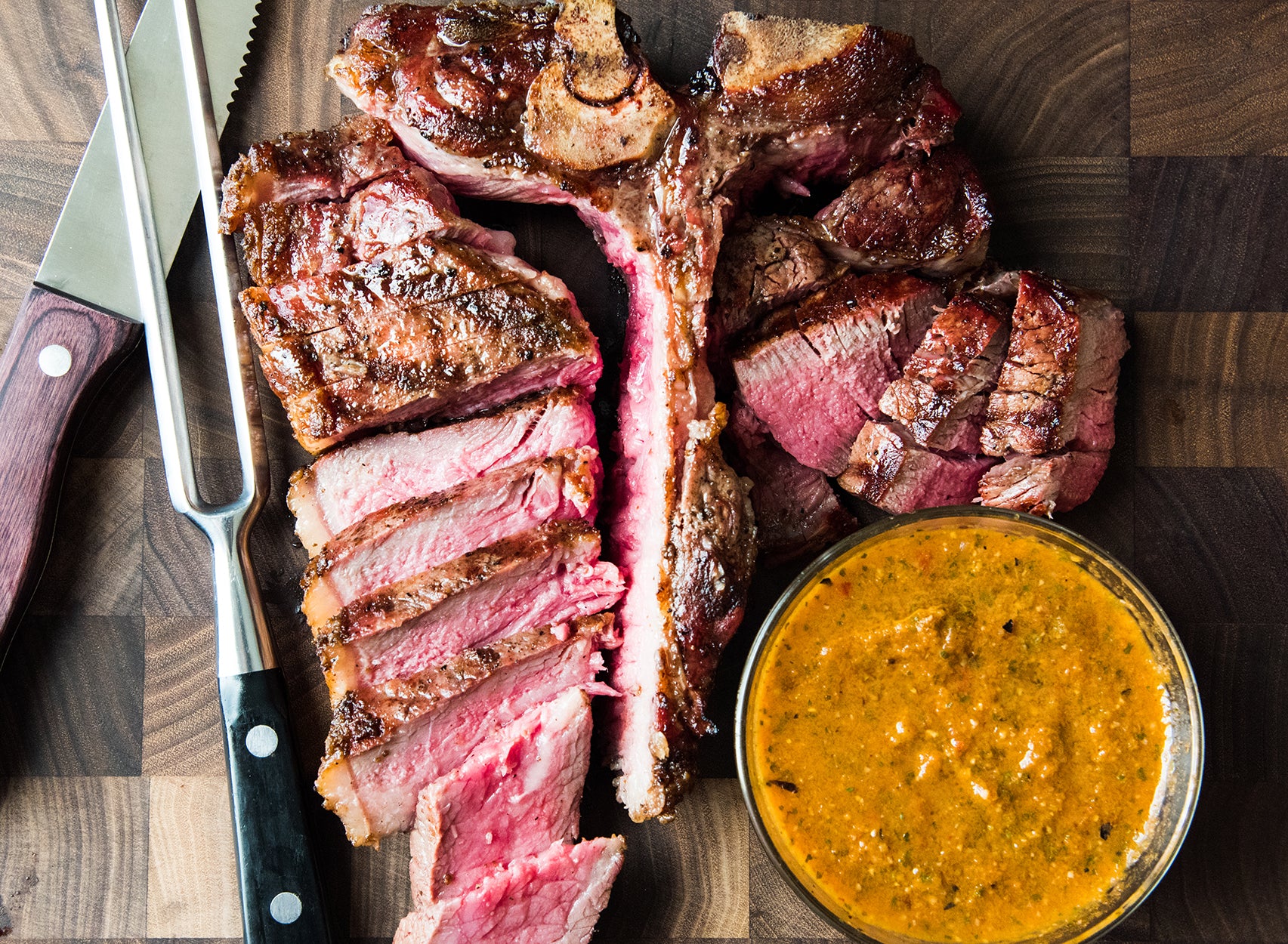 Overview
---
1 HR
Prep Time
1 HR 25 MIN
Total Time
MEDIUM
Skill Level
4
Servings
Ingredients
---
2 44 Farms Porterhouse Steaks (Father's Day Special)
Salsa Roja, recipe follows
2 Tomatoes
2 Tbs Garlic Cloves
1/4 c Onion (rough chopped)
1 Jalapeño
1 Guajillo Chili
2 tsp Chipotle in Adobo
1/2 c Cilantro
1/2 tsp 44 Farms Salt & Pepper Blend
1 Tbs Lime Juice
1 Tbs Olive Oil
Instructions
---
Remove steaks from refrigerator 30–60 minutes before grilling to bring up to room temperature
Prepare your grill, gas or charcoal with a two zone heat method. One side lit and the other side not turned on or no charcoal underneath the grate. Let your grill pre-heat for 10 minutes or until the charcoals have turned ash white.
Clean and lightly oil grill grate. Season steaks with 44 Farms Salt & Pepper Blend and place steaks on direct heat side of the grill.
Let steak sear for 4 minutes on each side to get a nice crust, turn the steak once on each side to get grill marks. Flip to cook on other side.
Move steak over to the indirect heat side to finish cooking.
Let cook for 10–12 minutes, flipping occasionally until internal temperature reaches 120º for medium rare and 130º for medium.
Place strip side of the steak, fat cap side on the grill for about 30–45 seconds to get a good crust over the fat cap.
Let steak rest for 5 minutes before serving.
Pre-heat oven to broiler.
Remove seeds and stem from the guajillo chili and place chili under broiler for 1 minute. Place chili in a small bowl. Pour boiling water over and cover. Let sit for 5 minutes and strain off water.
Place tomatoes, onions, garlic and jalapeño on a baking sheet. Lightly oil.
Roast under broiler for 5–10 minutes.
Place all ingredients in a blender and purée until smooth.
Chef's Tip
Bringing steaks up to room temperature before cooking will allow for more even cooking of the steaks. Cooking steaks over indirect heat will allow for a more even cooking throughout the steak.