HONEY TOASTED PECAN HUMMINGBIRD CUPCAKES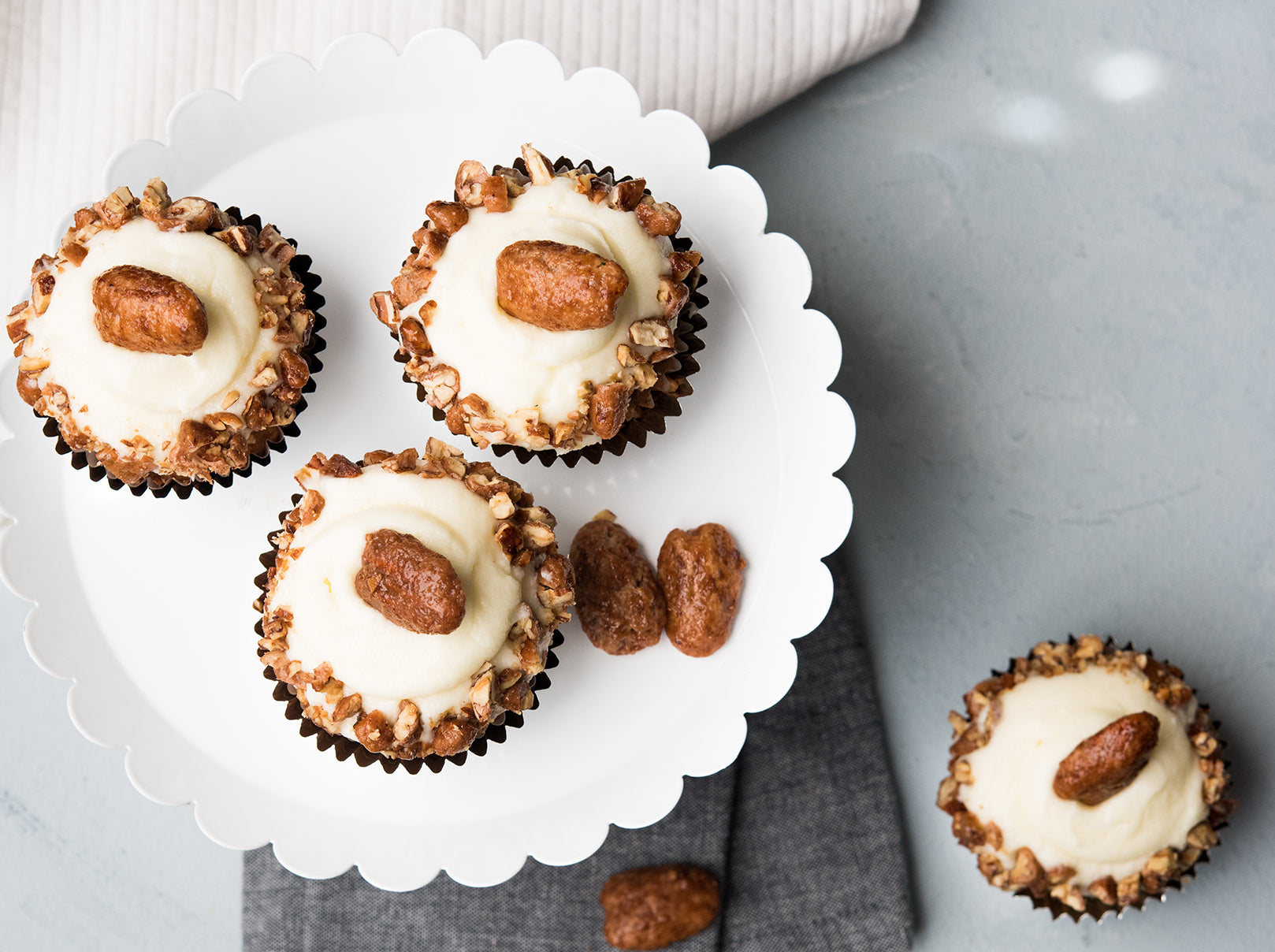 Overview
---
30 MIN
Prep Time
2 HR
Total Time
EASY
Skill Level
24
Servings
Ingredients
---
3 c All-Purpose Flour
1 1/2 c Sugar
1/3 c Dark Brown Sugar
2 tsp Cinnamon
1 tsp Baking Soda
1 tsp Kosher Salt
3 Large Eggs (beaten)
3/4 c Canola Oil
3/4 c Olive Oil (not extra virgin)
2 tsp Vanilla Bean Paste or Extract
12 oz Canned Crushed Pineapple in Juice
1 1/2 c Overripe Bananas (mashed)
1 c 44 Farms Honey Toasted Pecans (chopped)
1 c 44 Farms Honey Toasted Pecans (whole)
1 recipe Cream Cheese Buttercream, recipe follows
(2) 8 oz pkgs Cream Cheese (softened)
1 lb Butter (softened)
6 c Powdered Sugar
1 Tbs Vanilla Bean Paste or Extract
1/2 tsp Kosher Salt
Instructions
---
Pre-heat oven to 350º and place 24 paper baking cup liners into 2 standard 12-cup muffin pans.
In a large bowl, whisk together all dry ingredients.
Add all wet ingredients and whisk together until just combined.
Fold in chopped 44 Farms Honey Toasted Pecans.
Spoon batter into lined muffin pans until each cup is 3/4 full.
Remove from oven and let cool 30–45 minutes before piping on frosting.
Top with cream cheese buttercream and whole 44 Farms Honey Toasted Pecans.
Beat cream cheese and butter in a stand mixer with the paddle attachment until smooth, about 3 minutes. Scrape down sides of bowl.
Add powdered sugar gradually, 1 cup at a time. Turn mixer on medium-low speed and mix until incorporated. Continue until all powdered sugar has been added.
Increase speed to medium-high and beat for 4 minutes.
Chef's Tip
If you don't have any over-ripe bananas, you can roast bananas on a sheet pan in the oven at 275 degrees for 30 minutes. Let cool and remove from skin.