HUEVOS RANCHEROS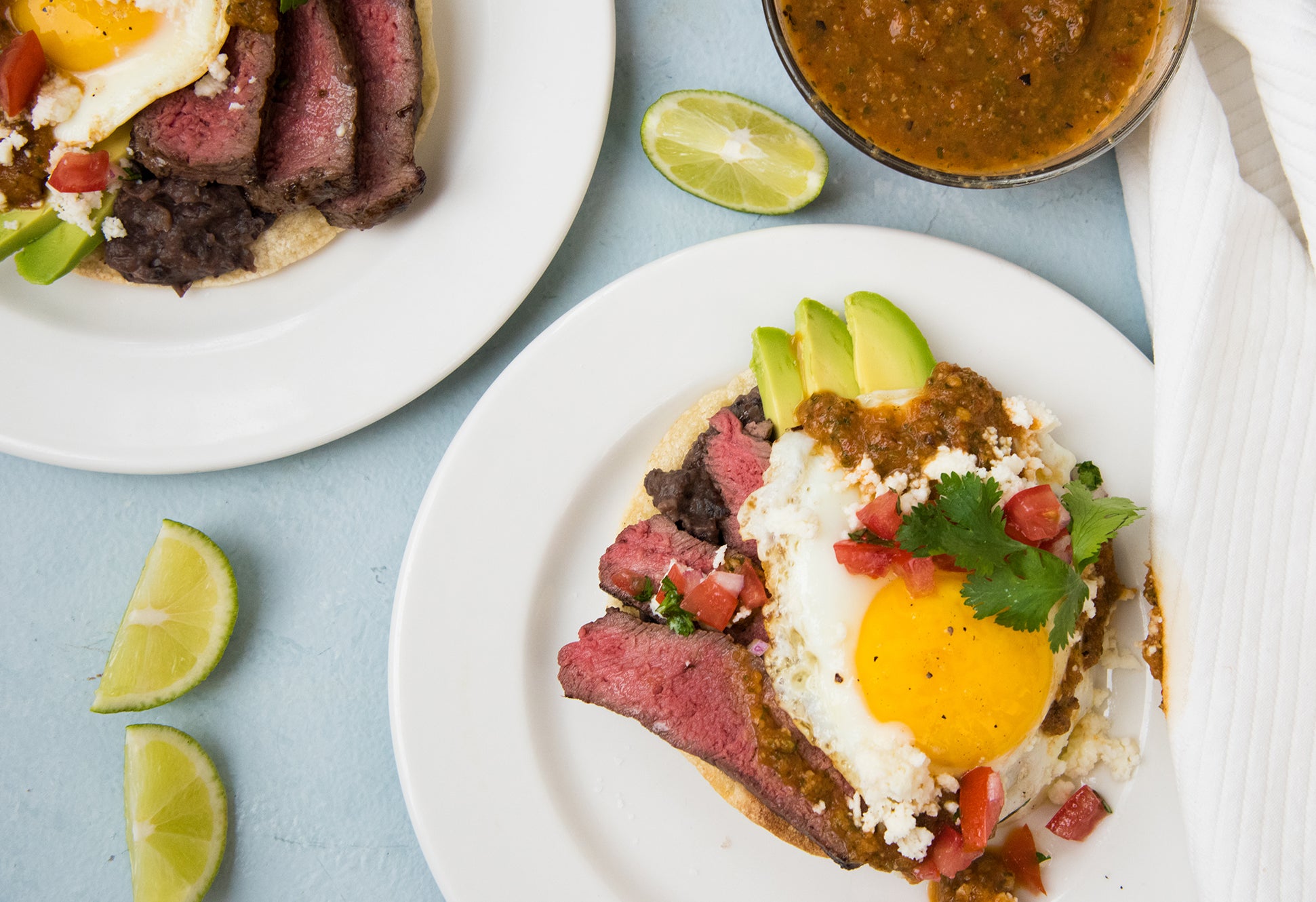 Overview
---
25 MIN
Prep Time
1 HR
Total Time
EASY
Skill Level
4
Servings
Ingredients
---
2 1/4 tsp 44 Farms Salt & Pepper Blend
6 Tbs Vegetable Oil
8 Eggs (room temperature)
4 tsp Butter
2 Avocados (thinly sliced)
Ranchero Sauce, recipe follows
Black Bean Hummus, recipe follows
8 Corn Tortillas
1/2 c Queso Fresco (crumbled)
4 Cilantro Sprigs
3 Tomatoes
2 Tbs Garlic Cloves
1/4 c Onion (roughly chopped)
1 Jalapeño
1 Ancho Chili
2 tsp Chipotle in Adobo
1/4 c Cilantro
2 Tbs Oregano
1/2 tsp 44 Farms Salt & Pepper Blend
1 Tbs Lime Juice
1 Tbs Olive Oil
15 oz can Black Beans (drained and rinsed)
1/2 c White Onion (chopped)
1 Tbs Garlic
1 tsp Cumin
1 tsp 44 Farms Salt & Pepper Blend
1 tsp Lime Juice
1/3 c Water
Instructions
---
Heat a cast iron pan over medium-high heat.
Slice sirloin steaks in half length-wise to make a 1-inch thick steak. 44 Farms Salt & Pepper Blend.
Add 2 Tbs. oil into pan and sear steaks for 2 minutes on each side. Remove from pan and set aside to rest until eggs are finished cooking. Then, thinly slice each steak.
Heat a cast iron pan with 2 Tbs. of oil, place one corn tortilla in the pan and lightly fry for about 20 seconds on each side. Repeat with remaining corn tortillas. You want the corn tortillas to be crispy but still a little pliable.
In a non-stick pan, place 1 tsp. butter and 1 tsp. oil over medium to medium-high heat.
Place one egg into pan and season with a pinch of 44 Farms Salt & Pepper Blend. While egg is cooking, tilt pan and baste egg white with hot oil until it has cooked all the way through. Continue to cook a little longer if not cooked all the way. Repeat step with the remaining eggs.
Once steak and eggs are cooked, it's time to assemble.
Divide black bean hummus between all crispy tortillas and spread on top. Top with sliced beef and avocado. Place one over-easy egg on top of each tortilla and cover with rancheros sauce and crumbled cheese. Garnish with cilantro sprigs.
Serve two Huevos Rancheros per person.
Pre-heat oven to broiler setting.
Remove seeds and stem from ancho chili and place the chili under broiler for 1 minute. Place chili in a small bowl. Pour boiling water over and cover. Let sit for 5 minutes and strain off water.
Place tomatoes, onions, garlic and jalapeño on a baking sheet. Lightly oil.
Roast under broiler for 5–10 minutes, until nicely charred.
Place all ingredients in a blender and purée until smooth.
Heat a small pot over medium heat. Add 2 Tbs. vegetable oil and sauté onions for 4 minutes until translucent. Add garlic and sauté for 3 more minutes.
Add black beans, cumin, water and salt and pepper blend. Bring to a simmer and simmer for 3–4 minutes.
Transfer black beans to food processor, add lime juice and blend until smooth.
Chef's Tip
The rancheros sauce and black beans can be made a day or two ahead of time and stored in the refrigerator until ready to use.