Scalloped Potatoes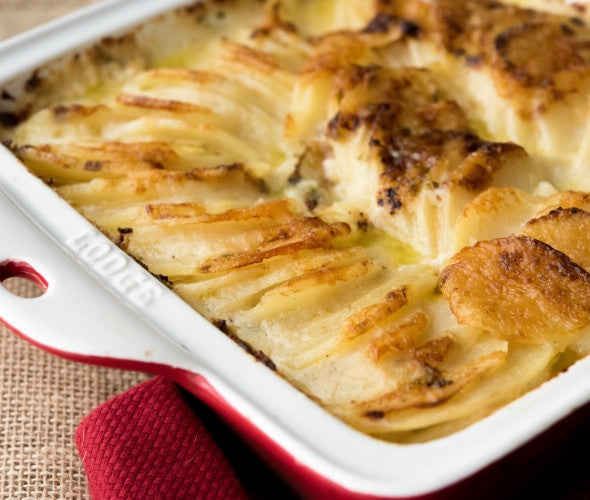 Overview
---
:05
Prep Time
2:00
Total Time
EASY
Skill Level
8
Servings
Ingredients
---
3 lbs Russet Potatoes (peeled)
2 tsp Garlic (minced)
2 tsp Thyme (chopped)
3 c Heavy Cream
2 oz Parmesan Cheese
2 oz Gruyère Cheese
Instructions
---
Using a mandolin, slice potatoes 1/8 inch thick into a large bowl.
Mix together other remaining ingredients, reserving 1 oz of parmesan cheese.
Pour over sliced potatoes and gently mix together to coat without breaking up potatoes.
Butter a 9 inch square baking dish and arrange sliced potatoes very tightly.
Pour remaining cream mixture from bowl on top of potatoes.
Cover with foil and bake at 400º for 30 minutes.
After 30 minutes, remove foil, and bake for another 30 minutes.
Add reserved parmesan cheese on top, and bake for an additional 30 minutes. Potatoes should be set in the cream, tender and golden brown on top.
Let rest for 15-20 minutes before serving.
Chef's Tip
Scalloped potatoes can be made a day ahead of time and reheated in a 350º oven for 20-30 minutes.