Carne Asada Short Rib Tacos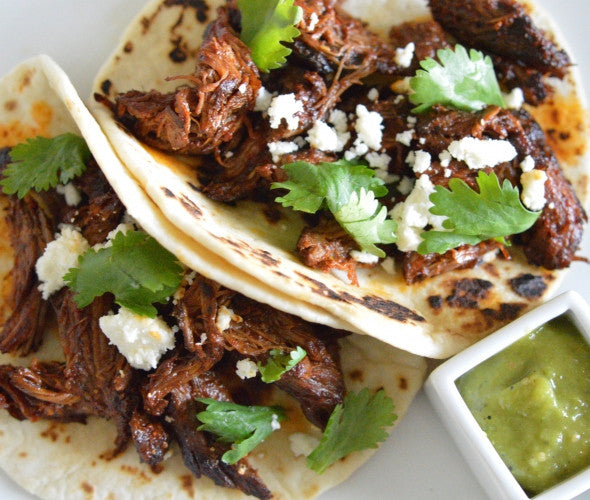 Overview
---
:30
Prep Time
3:30
Total Time
MEDIUM
Skill Level
6
Servings
Ingredients
---
Carne Asada Sauce
3 Ancho Chilis
3 Guajillo Chilis
1 Chipotle Pepper in Adobo Sauce (from can)
1/2 c Orange Juice
1/4 c Lime Juice
2 Garlic Cloves
1 Tbs Cumin (ground)
1 tsp Coriander (ground)
2 Tbs Brown Sugar
1 tsp Oregano (dried)
1 Tbs Kosher Salt
4 c Chicken Stock or Water
5 lbs 44 Farms Boneless Short Ribs (cut into 3-inch pieces)
1 Tbs Cumin
1 c Onions (chopped)
1/2 c Celery (chopped)
1/2 c Carrots (chopped)
4 Garlic Cloves
2 c Onions (julienned)
2 c Poblano Peppers (julienned)
20 Warm Tortillas
1 c Cotija cheese (crumbled)
12 Lime Wedges
1 c Cilantro (chopped)
Instructions
---
Heat 1 Tbs. of oil in a large cast iron pot. Season the short ribs with salt, pepper, and cumin and sear the short ribs on all sides, about 10 minutes. This may have to be done in two or three batches. Remove from heat and set aside.
Add onions, celery, garlic and carrot to the pot and sear for about 4-5 minutes.
Place the short ribs on top of the vegetables, add chicken stock or water and 1 cup of the carne aside sauce. Bring to a simmer.
Once liquid is simmering, turn down to low to medium low and cover. Cook for 3 hours until tender.
Remove short ribs from liquid and shred with fork.
Sauté onions and poblanos together until caramelized, season with salt and pepper.
Add short rib pieces and the remainder of the carne aside sauce. Cook until slightly caramelized and falling apart.
Serve with warm tortillas, cilantro, cotija cheese, and lime wedges.
Remove stems and seeds from ancho and guajillo chiles. Place on a baking pan and toast in a 400º oven for 5 minutes. Remove from pan, place in bowl, cover with hot water and wrap with plastic wrap. Let sit for 20 minutes then remove from liquid.
Combine in a blender: ancho, guajillo, chipotle, orange juice, lime juice, garlic, cumin, coriander, brown sugar, oregano, and kosher salt. Puree until smooth. Set aside.