Soba Noodle Salad with Flank Steak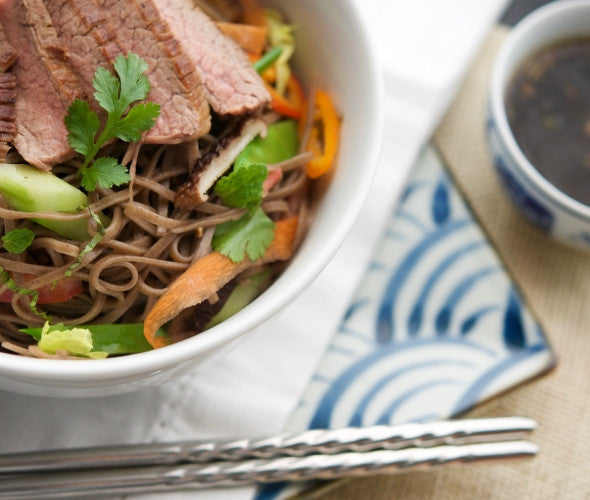 Overview
---
:20
Prep Time
4-12 HOURS
Total Time
EASY
Skill Level
4
Servings
Ingredients
---
1 lb 44 Farms Flank Steak
12 oz Soba Noodle Pack
1 c Snow Peas
1 c Carrots (julienned)
1/4 c Scallion (bias cut)
1/2 c Mini Sweet Peppers (deseeded and cut into thin rings)
1 c Cucumbers (thin bias cut)
1 c Shiitake Mushrooms (stems removed)
1/2 c Tomato (seeded and julienned)
2 Tbs Basil (finely chopped)
2 Tbs Mint (finely chopped)
1/4 c Cilantro (finely chopped)
1/4 c Vegetable Oil (divided)
1 c Soy Sauce
1 c Fish Sauce
2 c Lime Juice
1 tsp Lime Zest
3 Tbs Mirin
1/3 c Ginger (finely minced)
1/3 c Garlic (finely minced)
1/4 c Cilantro (finely chopped)
2 Tbs Sesame Oil
1 1/2 c Rice Vinegar
1 c Vegetable Oil
Instructions
---
Combine all marinade ingredients together and mix well.
Marinate flank steak with 3 cups of marinade, seal in a plastic bag and store in refrigerator for 4-12 hours.
After marinating, remove steak from bag and pat dry with a paper towel, discard marinade.
Season steak with 44 Farms Salt & Pepper blend.
Heat 2 Tbs. oil in a cast iron skillet over medium-high heat.
Sear steak for 3-4 minutes on each side.
Remove the steak from the pan and let rest for 10 minutes.
While the steak is resting, bring a small pot of salted water to a boil and blanch snow peas for 1 minute and place in an ice bath to chill.
In a sauté pan, heat over medium-high heat and add 2 Tbs. of oil and sauté the shiitake mushrooms until cooked through, about 3 minutes.
Remove from pan to cool and then slice into 1/4 inch slices.
Combine all the vegetables and herbs in a large bowl and toss with 1/2 cup dressing, set aside.
Bring a large pot of salted water to a boil, add soba noodles and cook for three minutes.
Strain and run cold water over noodles until chilled.
Portion soba noodle salad between four bowls.
Slice flank steak 1/4-1/2 inch thick against the grain, place on top of the soba noodles and serve.
Chef's Tip
Soba noodles can be found in the Asian section of the grocery store. If your grocery store does not sell them, they can be purchased through Amazon.If you like spice, add ¼ cup minced jalapeño to the dressing/marinade. For fish allergies, substitute soy sauce for fish sauce.