Rosemary Garlic Short Ribs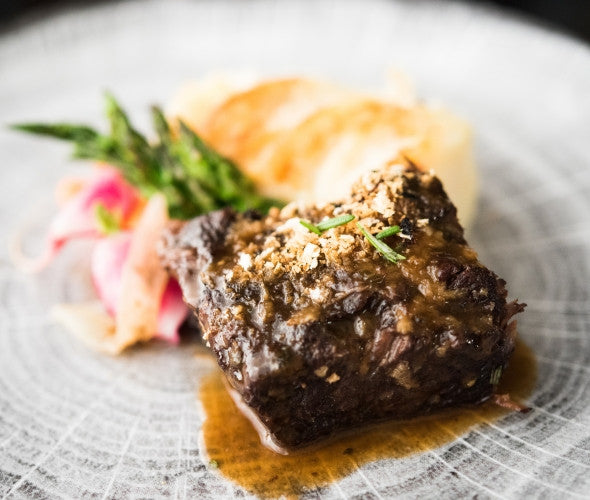 Overview
---
:30
Prep Time
3:30
Total Time
MEDIUM
Skill Level
6
Servings
Ingredients
---
5 lbs 44 Farms Angus Beef Short Ribs
2 Tbs Rosemary (finely chopped)
2 Tbs Garlic (minced)
1/2 c Onion (chopped)
1/4 c Carrots (chopped)
1/4 c Celery (chopped)
4 sprigs Rosemary
2 sprigs Thyme
6 Garlic Cloves
1/2 c Tomato (chopped)
2 c Red Wine
4 c Beef Stock
1 c Panko Bread Crumbs
2 Tbs Rosemary (finely chopped)
1 Tbs Garlic (minced)
2 Tbs Parmesan Cheese
1 Tbs Butter (melted)
1/4 tsp Kosher Salt
1 bunch Radish (quartered)
1 bunch Asparagus (cut into 3-inch pieces)
2 c Peas
1 c Baby Carrots
1 c Spring Onions (sliced 1/2-inch thick)
2 Tbs Garlic (minced)
1/4 c Chicken Broth
2 Tbs Butter
2 Tbs Chives (finely chopped)
4 tsp Kosher Salt
1/2 tsp Ground Black Pepper
Instructions
---
For the short ribs, trim fat on top and bottom. Portion short ribs into 12 equal pieces, about 6 oz per piece.
Combine short rib portions with 2 Tbs chopped rosemary, 2 Tbs minced garlic and 1/4 c vegetable oil.
Let marinate for at least one hour to overnight.
After short ribs have marinated, heat a large heavy bottom/cast iron skillet over medium high heat.
Season short ribs with 44 Farms Salt & Pepper Blend. Sear short ribs in skillet on all sides, about 3 minutes on each side. This may need to be done in batches. Do not overcrowd pot or beef with not properly sear.
Once all short ribs are seared, set aside on a plate.
In same pot, add 1 Tbs of vegetable oil over medium high heat, and sear vegetables for 3-4 minutes.
Add herbs and tomatoes, cook 1 minute.
Add red wine, and reduce by half.
Add beef stock, and place the short ribs into the pot.
Cover with a lid, and place in a 350º oven for 2 hours. Check to make sure short ribs are tender. If needed, cook for an additional 30 minutes.
Remove from oven, and let sit for 30 minutes.
Remove short ribs from skillet and set aside.
In a cast iron pan over medium heat, toast panko until golden brown, about 2-3 minutes.
Let cool and mix in remaining ingredients.
In a cast iron pan, heat 2 tsp oil.
Add spring onions and sear until tender. Add baby carrots and cook for 3-4 minutes.
Add asparagus and cook for 2-3 minutes until tender, depending on the thickness of the asparagus.
Add peas, garlic and salt and pepper.
Cook for 3-4 more minutes until vegetables are tender.
Add chicken broth and butter, and stir to coat vegetables.
Remove from heat, and stir in chives.
Chef's Tip
Serve for Easter brunch or dinner along with Scalloped Potatoes.Short ribs can be made a day or two ahead of time and reheated in braising liquid until warmed through.