MISO RAMEN NOODLE SOUP WITH FLANK STEAK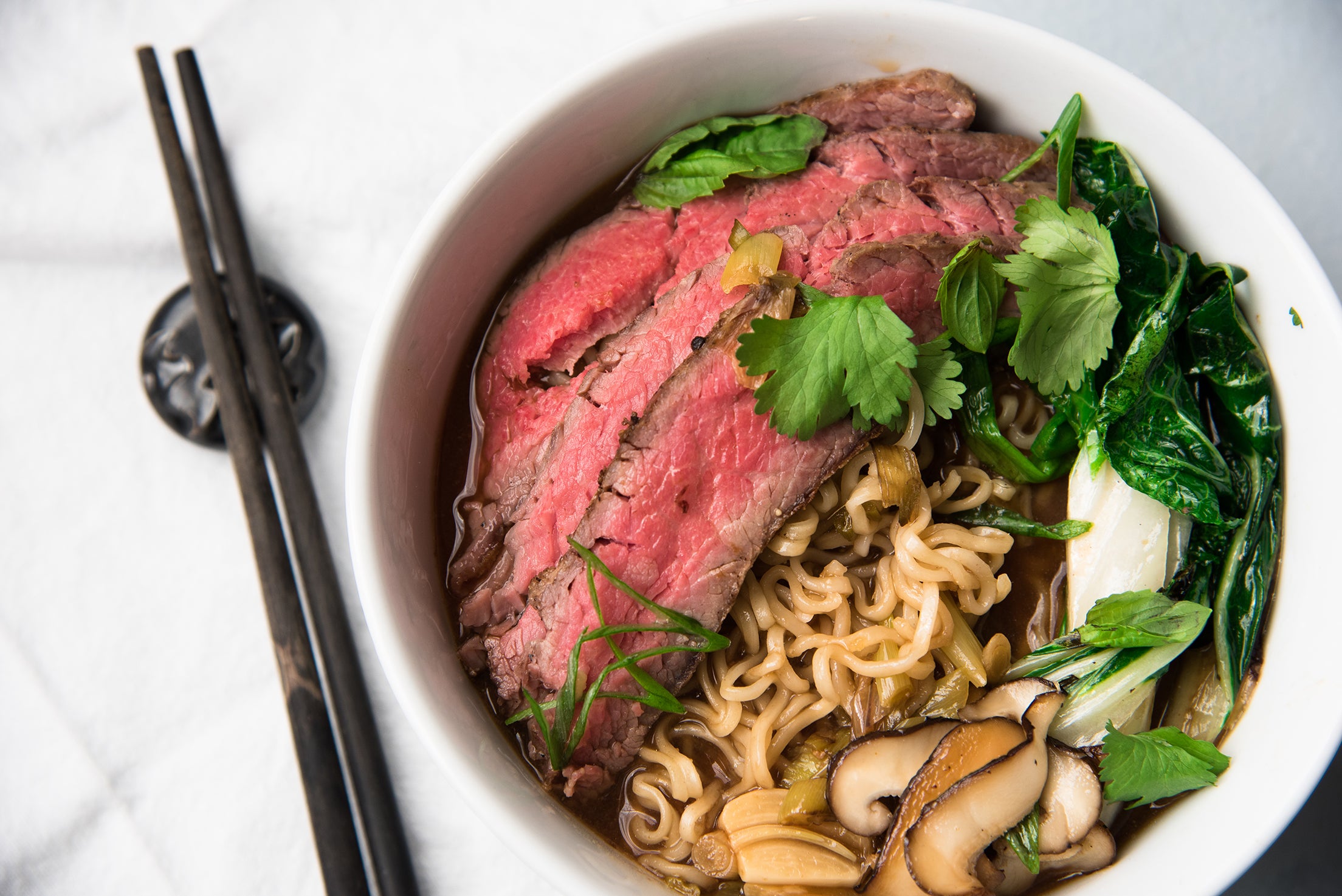 Overview
---
5 MIN
Prep Time
20 MIN
Total Time
EASY
Skill Level
2
Servings
Ingredients
---
8 oz 44 Farms Flank Steak
2 1/2 tsp 44 Farms Salt & Pepper Blend
4 c Unsalted Beef Stock
3 Tbs Garlic (thinly sliced)
1 Tbs Ginger (minced)
1/2 c Scallion (white part, thinly sliced)
1/4 c Scallion (green part, thinly sliced)
2 Tbs Miso Paste
1 Tbs Hoisin
1 Tbs Rice Vinegar
1 c Shiitake Mushrooms (sliced)
6 oz Bok Choy, cut into 1x3-inch strips
2 tsp Sesame Oil
1 pk Ramen Noodles (3.5–4 oz; discard flavor packet)
1/4 c Basil (chopped)
1/4 c Cilantro (chopped)
Instructions
---
Season flank steak with 1 tsp of 44 Farms Salt & Pepper Blend. Set aside.
In a pot, heat 2 Tbs canola oil over medium-high heat. Add white sliced scallion, garlic and ginger and sauté quickly for 1-2 minutes.
Add beef broth, miso and hoisin. Bring to a simmer and stir to incorporate all ingredients. Turn down heat to medium-low and simmer for 5 minutes. Add rice vinegar.
While broth is simmering, heat a cast iron pan over medium-high heat and add two Tbs oil. Sear flank steak on both sides (3 minutes each side) to get a good seared crust. Let rest for 5 minutes before slicing.
Heat 2 Tbs of oil in cast iron pan and quickly sauté bok choy for three minutes. Drizzle with 1 1/2 tsp 44 Farms Salt & Pepper Blend and 1 tsp sesame oil and set aside.
In the same pan, heat one tsp canola oil and sauté shiitake mushrooms for 3-4 minutes. Season with 1/2 tsp 44 Farms Salt & Pepper Blend and 1 tsp sesame oil.
Heat a medium pot of water over high heat and bring to a boil.
Add ramen noodles and simmer for 4 minutes. Strain from water and place in to two bowls.
Add shiitake mushrooms, bok choy, and half of the broth into each bowl.
Slice flank steak against the grain and place 4 oz into each bowl.
Garnish with cilantro, basil and green sliced scallions.
Chef's Tip
It is important it use unsalted beef stock to ensure the broth doesn't turn out too salty. Ramen noodle packages can be found in the Asian section of the grocery store. Make sure to discard the flavoring packet that comes with the noodles. You may be able to find fresh or packages of only noodles in Asian grocery stores.