SHEPHERD'S PIE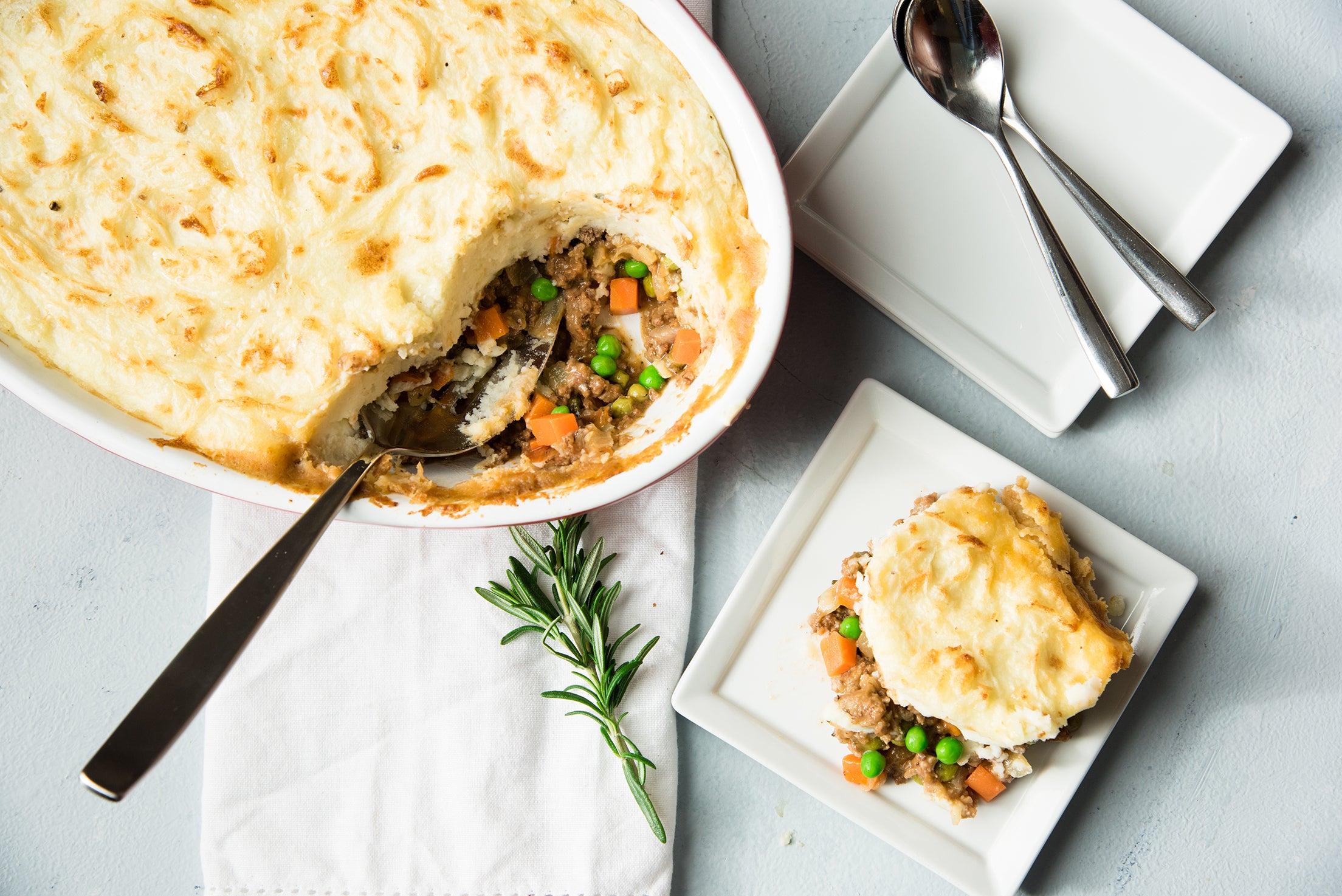 Overview
---
10 MIN
Prep Time
45 MIN
Total Time
EASY
Skill Level
4
Servings
Ingredients
---
1 lb 44 Farms Ground Beef
2 1/2 tsp 44 Farms Salt & Pepper Blend, divided
2 Tbs Canola Oil
1 c Onions (small diced)
1 c Carrots (small diced)
1/4 c Celery (small diced)
2 Tbs Garlic (minced)
1 c Peas
1 Tbs Tomato Paste
1 Tbs All-Purpose Flour
1 c Unsalted Beef Stock
2 tsp Worcestershire Sauce
2 Tbs Thyme (fresh)
1 Tbs Rosemary (fresh, chopped)
2 lbs Russet Potatoes (peeled and diced)
1 c Half and Half
4 oz Butter (melted)
1/4 c Sour Cream
1 c Parmesan Cheese
Instructions
---
Heat a large cast iron pot over medium-high heat. Add ground beef and cook until completely browned and cooked through, about 8–10 minutes. Use a spoon to break up ground beef while it is cooking and stir occasionally. Remove any excess grease.
Add onions, carrots, celery and 2 tsp 44 Farms Salt & Pepper Blend. Sauté for 5–6 minutes and then add garlic. Sauté for an additional 3 minutes. Add canola oil, if needed.
Stir in tomato paste and flour until evenly distributed among vegetables.
Add beef stock and herbs and simmer for 15 minutes until reduced and thickened.
While beef is cooking, bring 4 quarts of salted water and potatoes to a boil. Simmer for 15 minutes until softened.
Heat half and half and butter in a small pan until butter is melted and mixture is hot.
Strain potatoes and place in a large bowl. Break up potatoes with a masher or whisk.
Pour hot butter and cream mixture on the potatoes and whisk together until incorporated.
Stir in 1 tsp 44 Farms Salt & Pepper Blend, sour cream and Parmesan cheese.
When beef mixture is done simmering, stir in peas. Taste for seasoning and add additional 44 Farms Salt & Pepper Blend if needed. Place mixture in a 9"x13" baking dish.
Spoon mashed potatoes on top of beef mixture and spread evenly.
Bake on the middle rack for 20 minutes.
Remove from oven and let cool for 10 minutes before serving.
Chef's Tip
Dish can also be made into individual portions by dividing into four 16-ounce ramekins or baking dishes.