BEEF SHORT RIB STROGANOFF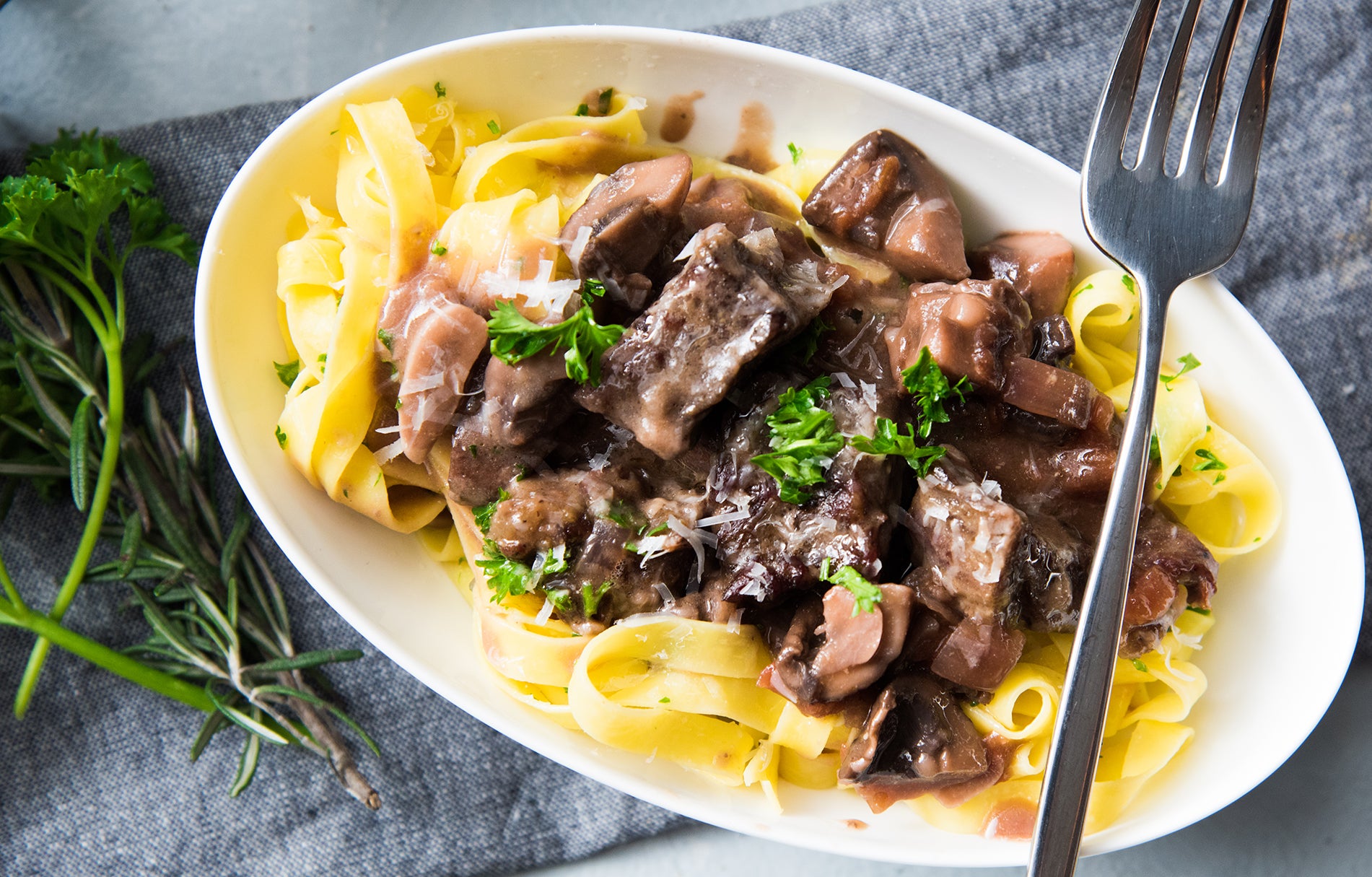 Overview
---
10 MIN
Prep Time
2 H 10 MIN
Total Time
MEDIUM
Skill Level
6
Servings
Ingredients
---
4 lbs 44 Farms Beef Short Ribs
2 Rosemary Sprigs
4 Thyme Sprigs
6 Garlic Cloves
1/4 c Canola Oil
1 c Onion (small diced)
2 lbs Crimini Mushrooms (quartered)
3 Tbs Garlic (minced)
1 c Tomato (small diced)
2 c Red Wine
6 c Beef Stock
1/4 c Wondra Flour
2 Tbs Dijon Mustard
1/4 c Sour Cream
2 tsp Worcestershire Sauce
4 Tbs Parsley (chopped)
2 Tbs Thyme (chopped)
1 lb Flat Egg Noodles
4 oz Butter (cubed and softened)
2 oz Parmesan Cheese, for grating
Instructions
---
Trim short ribs and portion into 2-inch cubes.
Season short ribs with 44 Farms Salt & Pepper Blend.
Place short ribs in a roasting pan with 6 garlic cloves, thyme sprigs and rosemary sprigs. Add 1/4 c beef stock to pan and cover with foil.
Roast in oven for 30 minutes. Remove foil and roast for another 30 minutes.
While short ribs are in the oven, begin sauce.
Heat a large non-stick cast iron pot with 2 Tbs oil and sauté the onions until translucent. Add crimini mushrooms and add another 2 Tbs of oil. Sauté until browned. Add garlic and sauce for another 3 minutes. Add diced tomatoes and stir to combine.
Deglaze with red wine and reduce wine to one cup.
Add beef stock and simmer for 5 minutes. Whisk in wondra flour, dijon mustard and Worcestershire sauce. Simmer for about 5 minutes until slightly thick and bubbly.
When beef has finished roasting in the oven, add it to the pot of sauce and simmer for another hour. Taste sauce for seasoning. Add 1-2 tsp of 44 Farms Salt & Pepper Blend, if needed. Add chopped parsley and thyme.
Cook egg noodles according to packaging instructions. Once finished, toss with 4 oz butter and 2 Tbs chopped parsley.
Serve short rib mushroom sauce over the pasta.
Grate 2 Tbs parmesan cheese over each dish before serving.
Chef's Tip
The last addition of salt and pepper will depend on if you used salted or unsalted beef broth. Beef short rib mushroom sauce can be made up to 2 days ahead of time before serving. Reheat over low heat to avoid burning sauce.