Lasagna Bolognese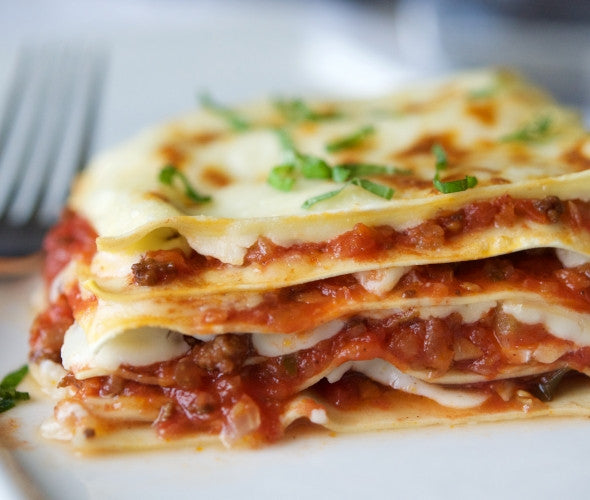 Overview
---
:20
Prep Time
4:00
Total Time
MEDIUM
Skill Level
6
Servings
Ingredients
---
1 pkg (9 oz box) Barilla Oven-Ready Pasta Sheets
Béchamel Sauce (recipe below)
Bolognese Sauce (recipe below)
1/4 c Fresh Basil Leaves
1 1/2 c Parmesan Cheese (grated)
1 lb 44 Farms Ground Beef
1 c White Onion (small diced)
1/2 c Celery (small diced)
1/2 c Carrots (small diced)
1/4 c Vegetable Oil
2 cans 28 oz Whole Peeled Tomatoes (puréed, in juice)
1/2 c Red Wine
1 tsp Dried Oregano (chopped)
3 c Chicken Stock or Water
2 oz Butter
2 oz Flour
1 tsp Salt
1/8 tsp Nutmeg
1 1/2 c Whole Milk
1/2 c Heavy Cream
Instructions
---
Heat ¼ cup oil over medium-high heat in a large pot. Add vegetables and cook for 7-8 minutes, stirring every few minutes.
Add ground beef and cook for about 20 minutes, break up the beef with a spoon to ensure even cooking.
Season with herbs and salt & pepper blend.
Add wine and boil for two minutes.
Add tomatoes and chicken stock, bring to a boil and reduce heat to medium-low. Simmer until sauce is slightly thick for 2 hours.
Place milk and cream in pot and heat over medium heat to warm.
Place butter in a separate large pot and melt over medium heat.
Add flour and whisk constantly for about 1 minute so the flour does not burn on the bottom of the pot.
Ladle in 1 cup of the warm milk/cream mixture at a time and whisk constantly until incorporated and smooth. Keep repeating until all the milk has been added.
Bring sauce to a boil and reduce heat to low. Stirring constantly and let sauce simmer for 2-3 minutes.
Add nutmeg and salt and remove from the heat.
If sauce was made ahead of time, reheat until warm.
Let the lasagna sheets soak in warm water for 20 minutes before assembling.
Coat a 13x9" baking dish with cooking spray.
Spread 1/3 cup béchamel sauce on the bottom of the baking dish.
Top with three lasagna noodles and spread 1 1/2 cups bolognese sauce on top of the noodles, then 1/2 cup béchamel sauce and top with 1/2 cup parmesan cheese.
Repeat 3 more times for a total of 4 layers.
Finish the top layer with 1 cup of béchamel sauce and 1/2 cup of parmesan cheese.
Bake for 40 minutes on a foil-lined sheet tray until browned and bubbling. Remove from oven and let rest for 10 minutes.
Top with fresh chopped basil and grated parmesan before serving.
Chef's Tip
You can make the bolognese sauce a day or two ahead, this will develop a deeper and richer flavored sauce.