Kimchi Dogs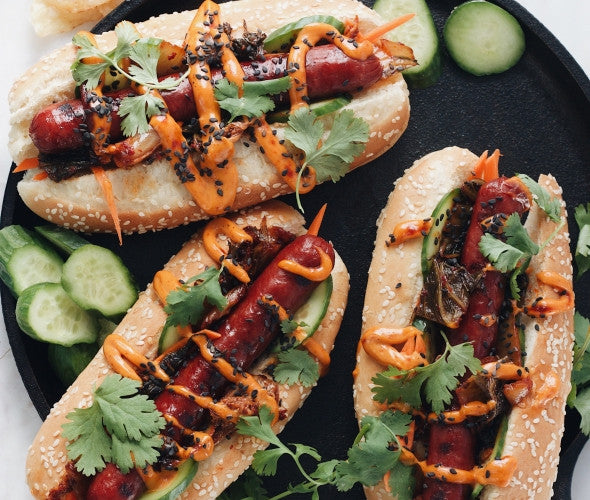 Overview
---
Prep Time
Total Time
EASY
Skill Level
8
Servings
Ingredients
---
8 Hot Dog Buns
2 c Roughly Chopped Kimchi
1 tsp Olive Oil
2 c Sliced Cucumber
1/4 c Rice Wine Vinegar
1 Tbs Sugar
1 Tbs Black Sesame Seeds
1 tsp Sesame Oil
1/2 c Mayonnaise
1 Tbs Kochujjang – Korean Fermented Chili Paste
1 Tbs Lime Juice
Cilantro
Instructions
---
Combine sliced cucumber with rice wine vinegar, sugar, sesame seeds and sesame oil in a bowl. Refrigerate.
In a separate bowl, mix mayonnaise and kochujjang — Finish with lime juice and refrigerate.
Sauté kimchi in a cast iron skillet with the olive oil for 5 minutes and set aside. This develops the flavor even more.
Grill franks to desired temp and divide amongst the hot dog buns with the cucumber. Add fresh cilantro and kimchi, finish with kochujjang mayo.