HONEY TOASTED PECAN PIE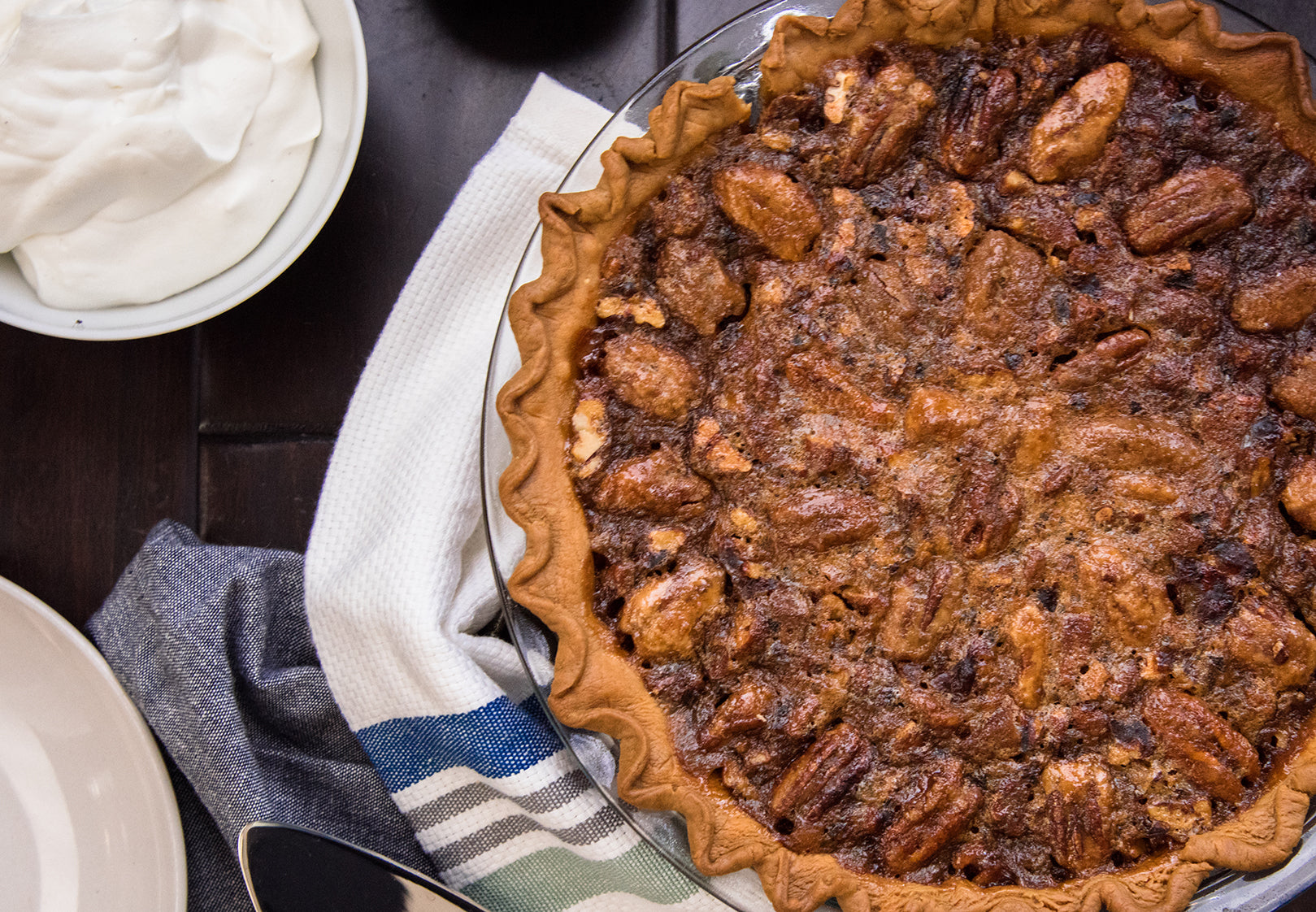 Overview
---
10 MIN
Prep Time
1.5 H
Total Time
EASY
Skill Level
8
Servings
Ingredients
---
10 oz 44 Farms Honey Toasted Pecans (whole)
1/2 c 44 Farms Honey Toasted Pecans (chopped)
3 Eggs (room temperature)
1 Tbs Molasses
2 Tbs Maple Syrup
1 c Corn Syrup
3 Tbs Brown Sugar
3 Tbs Unsalted Butter (melted)
1 tsp Vanilla Extract
1/4 tsp Kosher Salt
4 oz Unsalted Butter, 1/2-inch cubes
1 1/3 c All-Purpose Flour
1/4 tsp Salt
5 Tbs Heavy Cream
Instructions
---
Separate approximately 30 whole 44 Farms Honey Toasted Pecans and set aside.
Chop remaining 44 Farms Honey Toasted Pecans and mix with the other 1/2 c. pecans in a bowl.
In a separate bowl, add eggs and beat well. Add molasses, maple syrup, corn syrup, brown sugar, melted butter, vanilla and salt. Mix well and stir in chopped pecans.
Remove pie pan from refrigerator and pour mixture into pan. Top mixture with the whole 44 Farms Honey Toasted Pecans starting from the outer rim and working your way to the middle of the pie.
Place pie pan on a sheet tray, place in oven and bake for 35–40 minutes.
Mixture will still be a little loose but will set after cooling.
Let cool at room temperature for 3-4 hours before serving. Store in refrigerator.
Serve with whipped cream or your favorite vanilla ice cream.
In a food processor, add flour and salt. Pulse 3 times to combine.
Add butter pieces and pulse for 20–30 seconds. Add heavy cream and pulse until combined.
Remove dough, form into a disk and wrap in plastic wrap. Refrigerate for 40 minutes.
Remove from refrigerator and roll out to a 12-inch diameter. Place in a 9-inch pie pan. Trim and crimp edges. Place back in refrigerator until ready to use.
Chef's Tip
Check pie after 20 minutes to ensure edges of crust are not too dark. If they are getting dark too quickly, wrap aluminum foil on edges for remainder of the baking time.