FLANK STEAK FAJITAS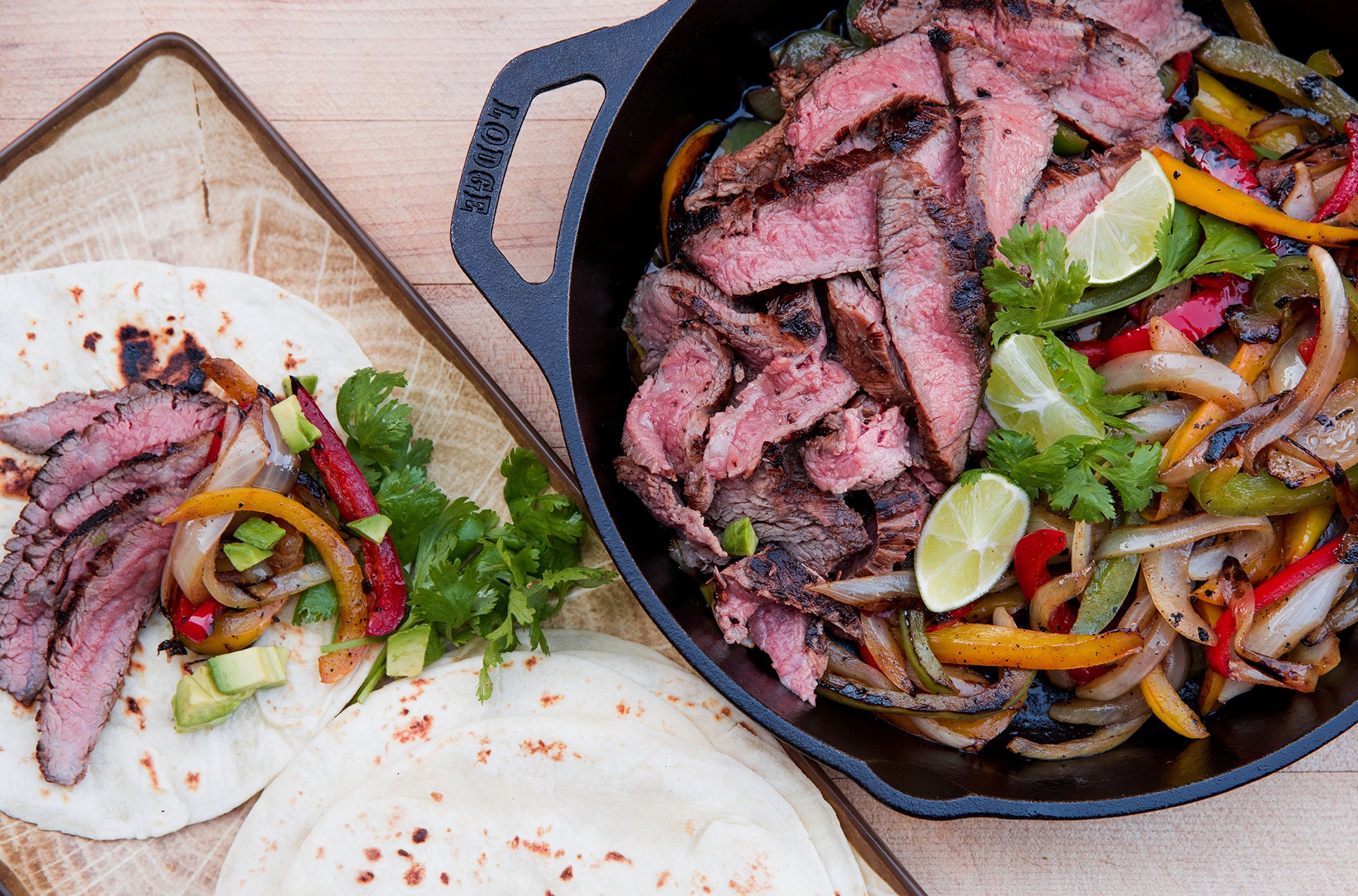 Overview
---
10 MIN
Prep Time
2 HR 25 MIN
Total Time
MEDIUM
Skill Level
6
Servings
Ingredients
---
2 lbs 44 Farms Flank Steak
1/2 c Soy Sauce
1/2 c Lime Juice
1/2 c Canola Oil
1 Tbs Cumin (ground)
1 tsp Black Pepper
1 Dried Guajillo Chili (seeds and stem removed)
1 Tbs Chipotle in Adobo (puréed)
2 Tbs Garlic Cloves
2 Tbs Oregano (fresh)
1 Yellow Pepper (julienned)
1 Red Pepper (julienned)
1 Green Pepper (julienned)  
2 c White Onion (julienned)
3/4 c Cilantro (chopped)
12 Flour Tortillas
Instructions
---
Trim flank steak and set side in a large size zip lock bag.
Cover dried chili with boiling water and let soak for two minutes.
In a blender, mix together the soy sauce, lime juice, canola oil, honey, cumin, black pepper, garlic, chipotle in adobo, oregano, ¼ c. cilantro and chili. Reserve 1/2 c. of marinade. Pour marinade into the zip lock bag with the flank steak. Seal bag and massage marinade into the beef. Place in the refrigerator for 2–8 hours.
Remove steak from marinade and pat dry with paper towels. Lightly oil flank steak and season with 2 tsp. 44 Farms Salt & Pepper Blend and place on a hot grill.
Grill steaks for 3 minutes on each side, turning half way to give hatch grill marks.
Toss onions and peppers with 1/2 c. reserved marinade.
Heat a large cast iron skillet with 2 Tbs. oil. Sauté onions and peppers until soft and beginning to brown, about 7–8 minutes. Season with 1 Tbs. 44 Farms Salt & Pepper Blend, if needed and stir in 1/2 c. chopped cilantro.
When steaks are finished, let rest for 5 minutes and thinly slice against the grain.
Lightly grill tortillas on grill.
Serve steak and onion and peppers with grilled flour tortillas and your favorite condiments, such as guacamole, salsa and crumbled queso.
Chef's Tip
Make sure your grill is very hot before cooking flank steak to ensure a nice charred outside and still have medium-rare inside. Cook to an internal temperature of 135º for medium-rare. Make sure to not over-marinate beef because will begin to acquire a mushy and chalky texture. This is from lime juice beginning to break down the beef.