GROUND BEEF STUFFED PEPPERS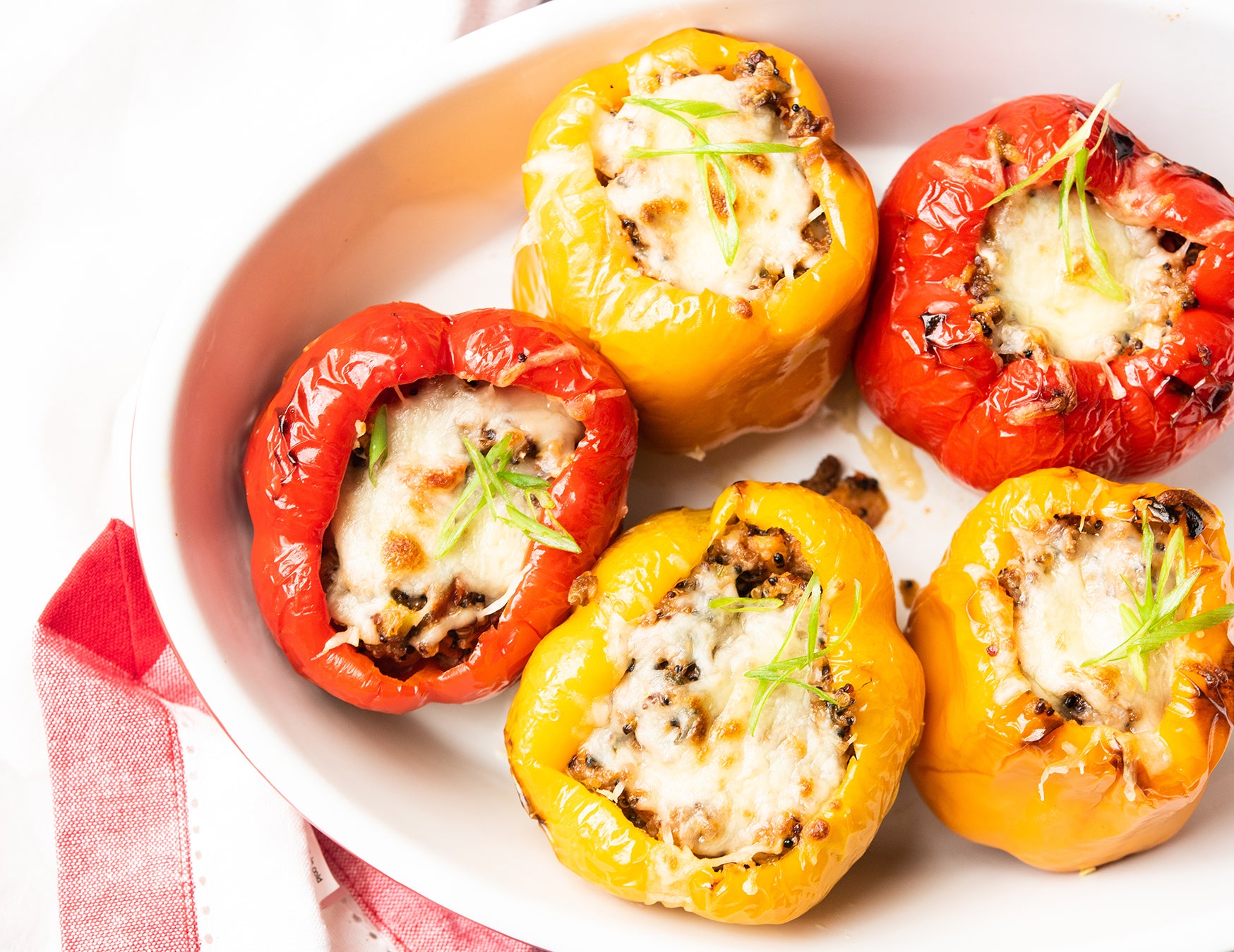 Overview
---
15 MIN
Prep Time
45 MIN
Total Time
EASY
Skill Level
6
Servings
Ingredients
---
1 lb 44 Farms Ground Beef
1 c Onion (small diced)
1/2 c Celery (small diced)
2 Tbs Garlic (minced)
1 Tbs Oregano (chopped)
1 Tbs Thyme (chopped)
1 c Cooked Quinoa
1 Tbs Tomato Paste
2 c Tomatoes (diced)
1 c Italian Blend Cheese (divided)
6 Medium Bell Peppers (orange, red, yellow)
1/4 c Scallions (chopped)
1/4 c Canola Oil
Instructions
---
Heat broiler and place rack closest to the top.
Using a small knife, cut top of each pepper around stem and remove stem and seeds.
Season inside of the peppers with a pinch of 44 Farms Salt & Pepper Blend and coat with oil.
Place peppers top side down on a lined baking sheet and place under broiler. Rotate peppers every 3 minutes for 12 minutes. Remove from oven and set aside.
Heat 2 Tbs. oil in a large heavy-bottom pot. Sauté onions and celery and 1 tsp. 44 Farms Salt & Pepper Blend until translucent, about 6–8 minutes. Add garlic and sauté for 1 minute.
Add ground beef and sauté until cooked through, breaking up beef to cook evenly. Add 1 tsp. 44 Farms Salt & Pepper Blend and cook for 10 minutes.
Add tomato paste, quinoa, diced tomatoes, oregano and thyme. Cook for another 3–4 minutes.
Taste beef mixture and add more 44 Farms Salt & Pepper Blend, if needed.
Remove from heat and let cool slightly. Stir in 1/2 c. cheese and divide beef between peppers. Top with more cheese.
Place stuffed peppers in a baking dish with 1/4 c. water in the baking dish.
Cover with foil and bake in center of 350º oven for 15–20 minutes.
Remove foil and finish baking for 5 minutes.
Remove from oven, top with chopped scallions and serve immediately.
Chef's Tip
Peppers and beef can be prepared ahead of time and stored in an air tight container in the refrigerator. Remove from refrigerator when ready to bake. Let come up to room temperature for about 20 minutes. Bake in oven and add on an additional 20 minutes to the baking time.