Herb Roasted Potatoes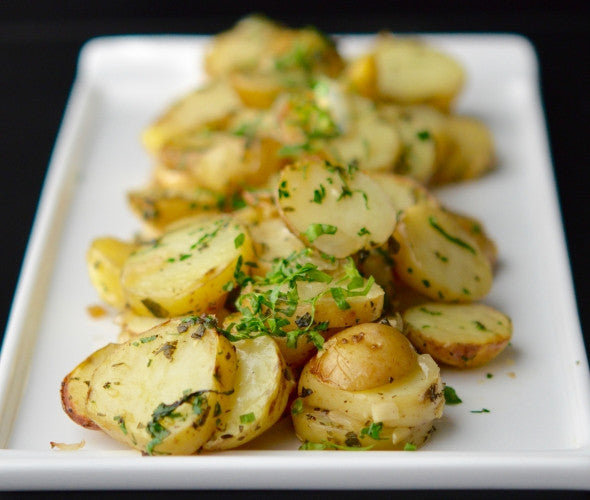 Overview
---
:10
Prep Time
:45
Total Time
EASY
Skill Level
8
Servings
Ingredients
---
3 lbs Yukon Gold Potatoes
2 c Onion (small diced)
1/4 c Garlic (minced)
2 Tbs Butter
2 Tbs Parsley
1 Tbs Oregano (fresh)
1 Tbs Basil (fresh)
1 Tbs Thyme (fresh)
6 Tbs Canola Oil
Instructions
---
Slice potatoes into ½ inch slices. Set aside in a large mixing bowl.
In a blender combine herbs, 6 Tbs. oil and 1 tsp. of the Salt & Pepper blend, puree until smooth.
Toss sliced potatoes with 1 Tbs. of Salt & Pepper blend and the herb oil.
Place on a baking sheet and bake for 25 minutes at 425º.
While the potatoes are baking, heat a pan over medium-low heat with 2 Tbs. butter.
Add onions and sauté until translucent, about 6 minutes.
Add garlic and sauté for an additional 4 minutes, season with 2 tsp. Salt & Pepper blend.
After potatoes have baked for 25 minutes, add onion and garlic mixture.
Bake for an additional 10 minutes.
Remove from the oven and serve.
Chef's Tip
Herb oil can be made in advance and stored in refrigerator for a week.