WILDFLOWER HONEY BBQ SAUCE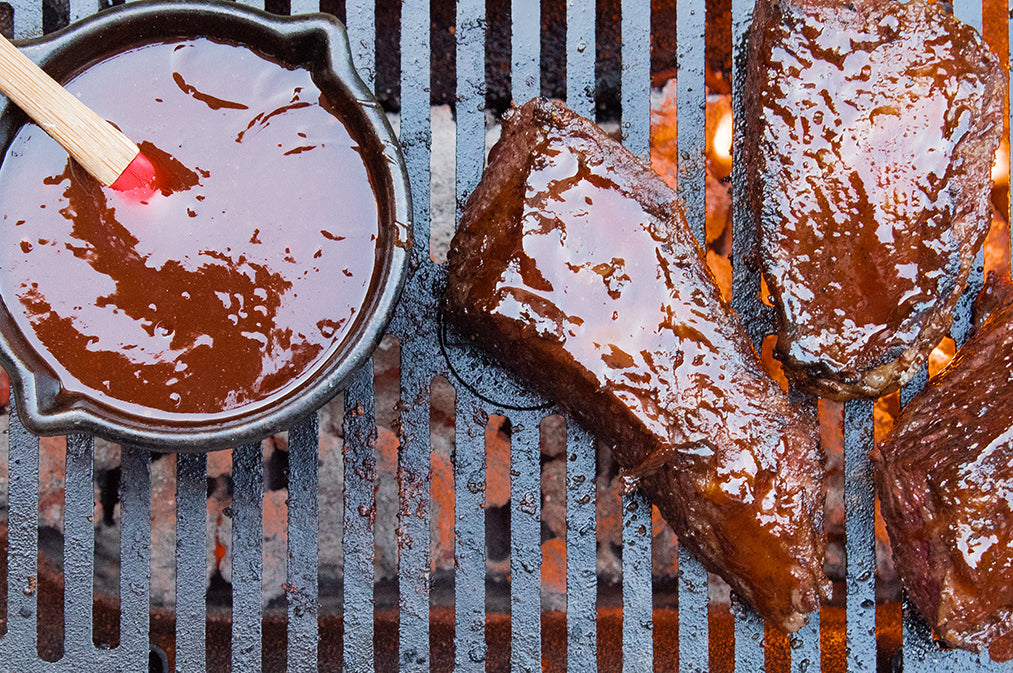 Overview
---
5 MIN
Prep Time
15 MIN
Total Time
EASY
Skill Level
6
Servings
Ingredients
---
4 lbs 44 Farms Short Ribs
1 c Hickory Wood Chips
1 c Ketchup
1/4 c Brown Sugar
1 Tbs Worcestershire Sauce
1/4 c Apple Cider Vinegar
1/4 c Water
2 tsp Dry Mustard
1 tsp Garlic Powder
2 tsp Onion Powder
2 Tbs Molasses
2 tsp Paprika
1 tsp Chili Powder
1 Tbs Chipotle in Adobo Purée
1/4 tsp Allspice
1/8 tsp Cloves
1 Tbs Liquid Smoke
Instructions
---
For Wildflower Honey BBQ sauce, combine all ingredients together in a heavy bottom pot and bring to a simmer over medium-high heat. Lower heat and let simmer for 10 minutes over low heat.
Remove from heat and let cool until ready to serve or store for a later use.
To prepare short ribs, soak hickory wood chips in water for 30 minutes.
Prepare your gas or charcoal grill to 250º.
Once grill is hot, place wood chips in a smoking box or use heavy duty tin foil with a few holes. Place on top of coals.
Season short ribs with 44 Farms Salt & Pepper Blend. Place fat side up onto grill. Close lid and maintain temperature for 2 hours.
After 2 hours, mop with Wildflower Honey BBQ Sauce and continue to cook for an additional 1–2 hours until internal temperature of the short ribs is 190º.
Once short ribs have reached 190º, remove from grill, wrap in foil and let rest for 20–30 minutes.
Slice and serve with Wildflower Honey BBQ Sauce.
Chef's Tip
Store Wildflower Honey BBQ Sauce in an air tight container in refrigerator for up to 2 weeks.