Green Bean Casserole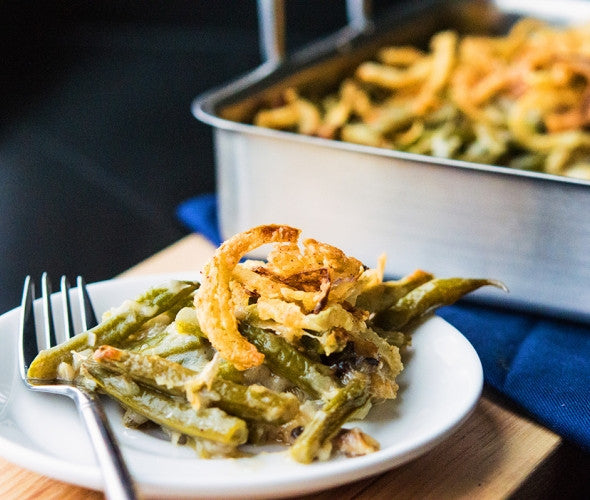 Overview
---
:10
Prep Time
1:00
Total Time
EASY
Skill Level
8
Servings
Ingredients
---
3 lbs Fresh Green Beans (ends trimmed and halved)
1 1/2 c Onion (small diced)
2 Tbs Garlic (minced)
12 oz Mushrooms (sliced)
1/2 c White Wine
1 1/2 c Chicken Stock
1 1/2 c Heavy Cream
9 Tbs Butter
9 Tbs Flour
1 1/2 tsp Worcestershire Sauce
1 1/2 tsp Dijon Mustard
1 1/2 c Cheddar Cheese (shredded)
2 c Crispy Onions (recipe follows)
2 c Sweet Onion (sliced thin on a mandoline or knife)
2 c Buttermilk
2 c All-Purpose Flour
1 tsp Paprika
1 tsp Onion Powder
1 tsp Garlic Powder
1 qt Canola Oil
Instructions
---
Place sliced onions and buttermilk in a bowl, let sit for 30 minutes.
Heat oil in large cast iron pot to 350º over a medium stove. When it gets to 300º turn down to medium-low until ready to use.
Mix flour, salt and spices together in a large bowl.
Take onions out of buttermilk and toss in flour mixture.
Shake off excess flour and fry in hot oil in three batches.
You may need to turn up the heat to medium after placing the onions in the oil.
Bring pot of water to a boil, add 1 tsp. kosher salt. Blanch green beans in boiling water for 3 minutes. Remove from water and place in ice water bath until chilled. Strain well and place in a large bowl.
Heat 2 Tbs. oil in pot and sauté onions over medium heat until translucent, about 3 minutes. Add mushrooms and sauté for 3 minutes. Add minced garlic and sauté for 1 minute.
Deglaze with white wine, simmer until almost dry. Add butter and flour, stir for 1 minute.
Add chicken stock and cream. Reduce heat to medium-low and stir until combined and simmering. Add Dijon mustard and Worcestershire sauce.
Bake at 350º for 15 minutes.
After 15 minutes, top with shredded cheddar cheese.
Bake for an additional 15 minutes.
Remove from oven and let sit for 5 minutes.
Top with crispy onions and serve.
Chef's Tip
The casserole can be prepared the day before and baked the day of serving.Crispy onions can be made a day ahead and stored in a sealed container at room temperature.