GAME DAY SLIDERS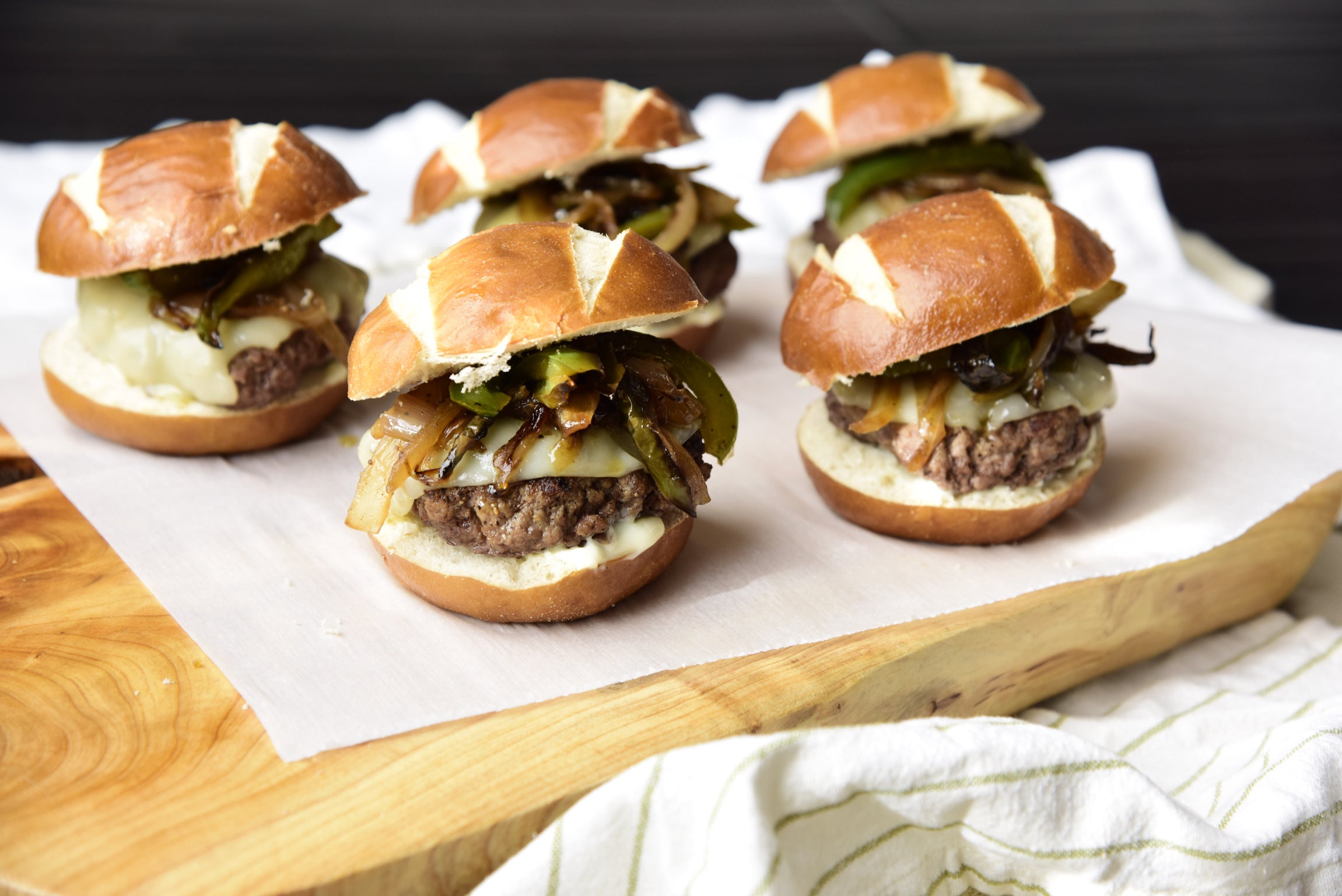 Overview
---
3 MIN
Prep Time
20 MIN
Total Time
EASY
Skill Level
10
Servings
Ingredients
---
(2) 8 oz 44 Farms Sirloin Steaks
8 Slider Buns
1 c All-Purpose Flour
1 1/2 tsp Cayenne Pepper
1 c Buttermilk
1 Beaten Egg
3 Tbs Chipotle in Adobo (puréed)
2 c Canola Oil
1 Tbs Cayenne Pepper
1 Tbs Paprika
2 tsp Cumin
1 tsp Onion Powder
1 tsp Garlic Powder
1 Tbs Brown Sugar
1 Habanero Pepper
1 Fresno Pepper
2 c Red Cabbage (shredded)
1/3 c Cilantro (chopped)
1/3 c Mayonnaise
1 Tbs Cider Vinegar
1 tsp 44 Farms Honey
1/2 tsp 44 Farms Salt & Pepper Blend
Instructions
---
Heat a cast iron pan over medium-high heat and add 3 Tbs canola oil. Sauté onions and pepper until slightly caramelized, about 10 minutes. Season with 1 Tbs 44 Farms Salt & Pepper Blend. Stir often to ensure even browning. Set aside.
Combine ground beef with 2 Tbs 44 Farms Salt & Pepper Blend. Form into 10 patties. Season patties with 1/4 tsp black pepper on each slider patty and a little more salt.
Heat a cast iron pan with 1 Tbs canola oil over medium-high heat. When pan is starting to smoke, place 3-4 patties into pan.
Sear and cook for about 3 minutes each side. Continue until all slider patties are cooked. Top with provolone cheese and melt under broiler or oven.
Place 1 Tbs mayo on bottom of each slider bun. Top with patty and then top with sautéed onions and peppers.
Chef's Tip
Cook time on these sliders will result in a medium burger. You can adjust time for the desired temperature and doneness you prefer.