SKILLET BEEF NACHOS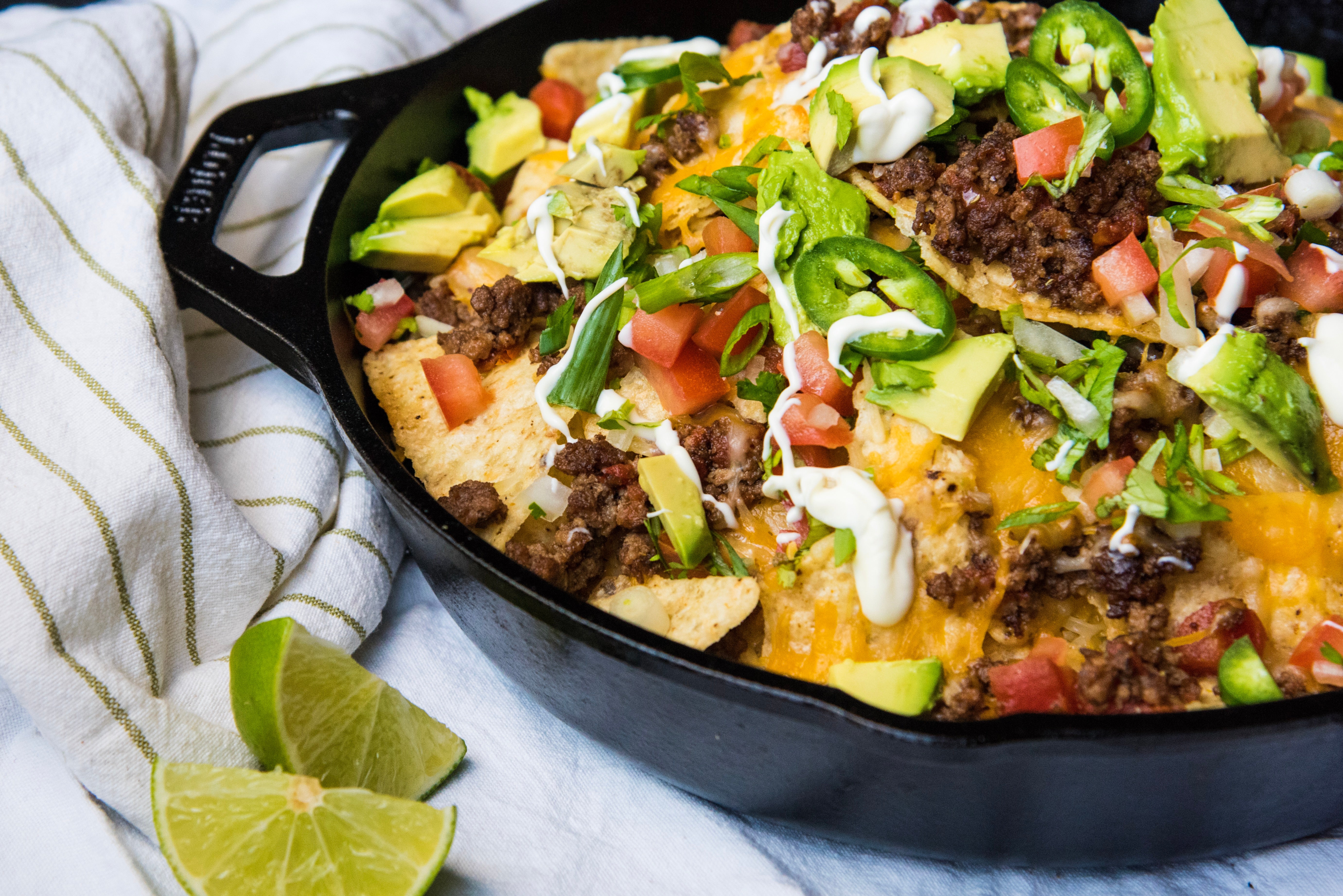 Overview
---
3 MIN
Prep Time
25 MIN
Total Time
EASY
Skill Level
8
Servings
Ingredients
---
1 c Onions, small diced
2 Tbs Garlic, minced
1 c Tomatoes, diced
1 tsp Onion Powder
1 tsp Paprika
1 Tbs Chili Powder
2 tsp Cumin, ground
1 tsp Garlic Powder
1 bag Tortilla chips
2 c Pico de Gallo
24 oz Mexican Cheese Blend
2 Jalapeños, thinly sliced
1/2 c Scallions, green part sliced
1 Avocado, diced
1/4 c Sour Cream
Pico de Gallo
1/2 c Scallion, white part thinly sliced
2 Tbs Jalapeños, brunoise
1 c Tomatoes, small diced
1/4 c Cilantro, chopped
2 Tbs Canola Oil
1/4 c Lime Juice
Instructions
---
Heat a cast iron pot over medium-high heat and add 1/4 c. canola oil and onions. Sauté four to five minutes and then add garlic. Sauté four more minutes and add ground beef.
Cook ground beef for 10–12 minutes until golden brown. Use a spoon to break up ground beef into small pieces.
Add onion powder, garlic powder, paprika, cumin, Salt & Pepper Blend and tomatoes.
Cook for 5–7 minutes, stirring every few minutes.
In a cast iron pan, place one layer of tortilla chips on bottom, top with 1/3 of ground beef mixture. Add 1/3 of cheese on top of ground beef. Add 1/2 c. Pico de Gallo.
Continue with two more layers.
Place in a 375º oven until the cheese melts, about 4–5 minutes.
Remove from oven and top with 1 c. Pico de Gallo, diced avocado, scallions, sliced jalapeños and sour cream.
Chef's Tip
Brunsoise is a very small dice. 1/8" x 1/8" cut.