Beef Sausage Stuffing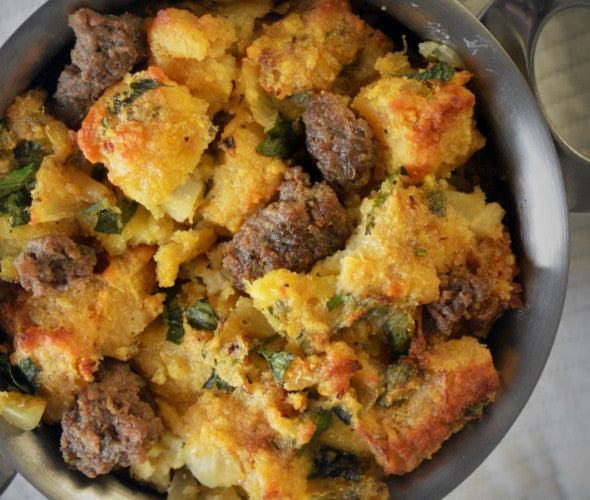 Overview
---
:10
Prep Time
1:30
Total Time
EASY
Skill Level
6
Servings
Ingredients
---
1 lb Beef Sausage (recipe follows)
4 Slices Country Style Bread (crust removed)
1 pan Cornbread (recipe follows)
1/4 c Olive Oil
1 c Onion (small diced)
1 c Fennel (small diced)
1/2 c Celery (small diced)
1 tsp Garlic (minced)
1 Tbs Fresh Thyme (chopped)
2 Tbs Fresh Sage (finely chopped)
2 Tbs Fresh Parsley (finely chopped)
1 tsp Lemon Zest
1/2 c White Wine
1 1/2 c Chicken Stock
1 Egg (beaten)
3 Tbs Butter (cut into 1/2-inch cubes)
1 Tbs Fennel Seeds (ground medium)
1 Tbs Garlic Powder
1 Tbs Onion Powder
1 Tbs Paprika
2 Tbs Fresh Sage (chopped)
1 c Butter
18 oz Frozen Corn
1/3 c Heavy Cream
1/4 c Whole Milk
2 Eggs
1 c Cake Flour
1/2 c Cornmeal
1/4 c Sugar
1 tsp Salt
3/4 tsp Baking Powder
1/4 tsp Baking Soda
Instructions
---
Combine all ingredient together and let sit in the refrigerator for 3 hours and up to 12 hours.
In a large pot, combine butter and corn. Cook over medium heat for 10 minutes, stirring every few minutes to ensure corn does not stick to the bottom of the pan.
Combine dry ingredients in a large bowl and set aside.
Pour butter/corn mixture in a blender with milk and cream. Blend until smooth. Add eggs and blend
Mix liquid ingredients into the dry ingredients until incorporated.
Pour into a 9x9" pan and bake at 375º for 35-45 minutes, until a toothpick comes out clean.
Heat cast iron pan on medium-high heat. Add in beef sausage and cook for about 10 minutes until cooked through. Break up beef while cooking to small pieces.
When the sausage is finished cooking, strain off excess fat.
Cut up the cornbread, remove side crust, and country bread and drizzle with olive oil and lay on a sheet pan. Bake at 400º for 10 minutes until crispy on the outside.
While bread is in oven, heat a pan over medium high heat and add 2 Tbs. oil and saute onions. Cook for about 4 minutes and add fennel and celery, cook for another 4 minutes. Add garlic and stir for one minute. Add in the fresh herbs and lemon zest.
Add white wine and reduce by half for about 4 minutes. Remove from heat and place in a large bowl.
Add chicken stock, cooked beef sausage, egg and crispy bread. Toss gently to not break bread pieces.
Place in a baking dish and cover with foil. Bake at 400º for 40 minutes. Remove foil, place butter cubes on top and bake for an additional 20 minutes until golden brown.