Apple Pecan Dressing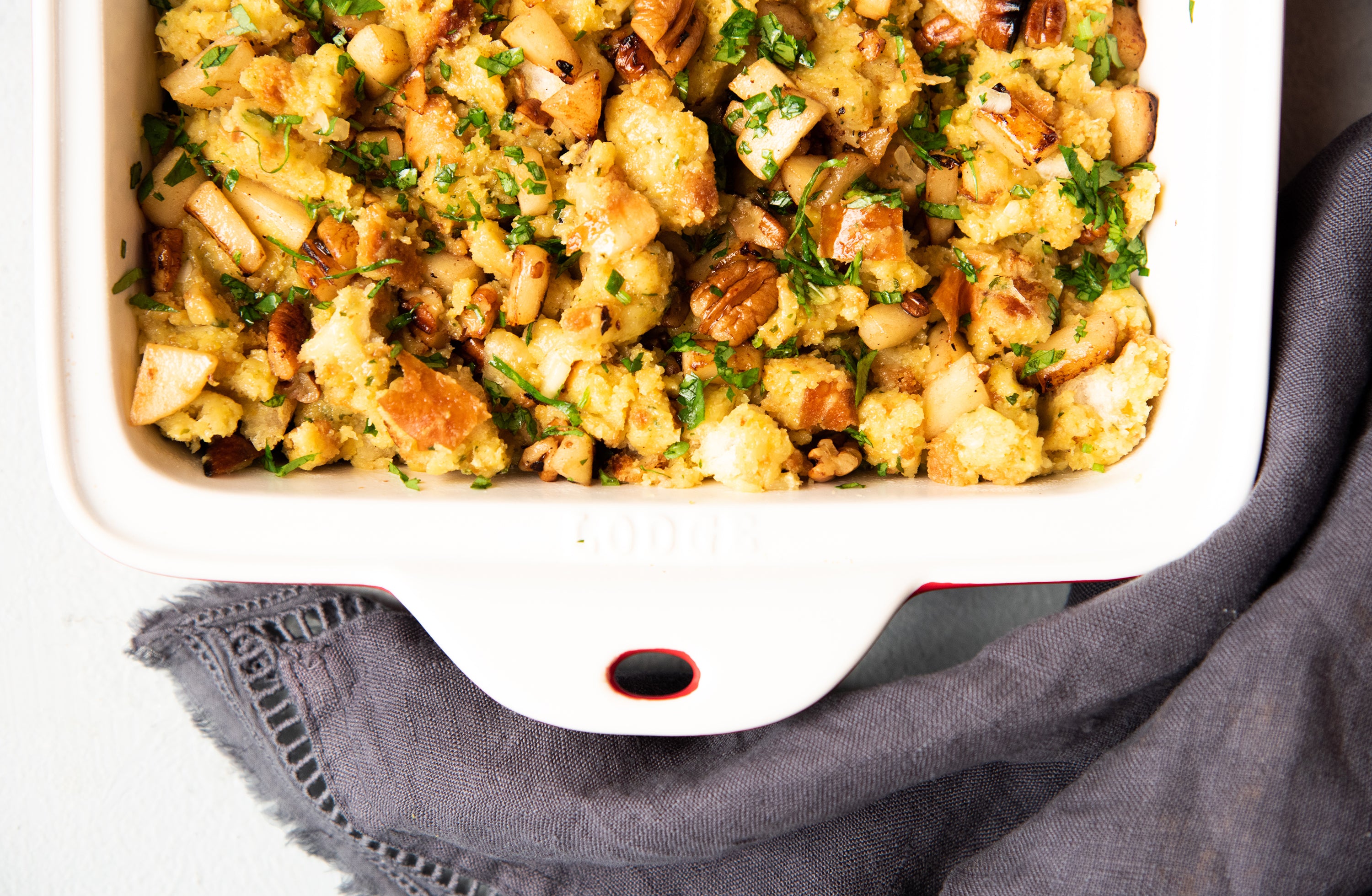 Overview
---
20 MIN
Prep Time
1 HR 40 MIN
Total Time
EASY
Skill Level
8
Servings
Ingredients
---
1 lb White Bread Loaf
4 oz Butter, melted
1 c Onion, small diced
1 c Celery, small diced
2 c Granny Smith Apples
1 1/2 c Pecans, chopped
3 c Chicken Stock
1 Egg, whisked
2 Tbs Pecan Oil
1/2 tsp Fresh Sage, finely chopped
1 Tbs Fresh Rosemary, finely chopped
1/2 c Fresh Parsley, chopped
Instructions
---
Preheat oven to 275 degrees
Cut the bread loaf into 1 inch cubes and place on a baking tray. Drizzle with 2 Tbs pecan oil and bake in oven until slightly golden and the bread is toasted and dry, about 1 hour. Stir every 20 minutes. Remove from the oven and set the bread aside.
Increase the oven temperature to 375 degrees.
Heat 2 Tbs of canola oil in a large skillet. Sauté the onions and celery until translucent, about 5 minutes. Add in the apples and the fresh herbs and sauce another 3 minutes.
In a large bowl, toss together the toasted bread crumbs, sautéed vegetables and apples, chopped pecans, whisked egg, salt and pepper blend and chicken stock.
Butter a large baking dish and place the mixture inside and drizzle with the remaining butter.
Cover with foil and bake for 25 minutes.
Uncover and bake for an additional 10-15 minutes until golden brown on top.
Chef's Tip
The dressing can be made a day ahead and stored in the refrigerator. When ready to bake, let sit at room temperature for 15 minutes before baking.