FENNEL SAUSAGE PIZZA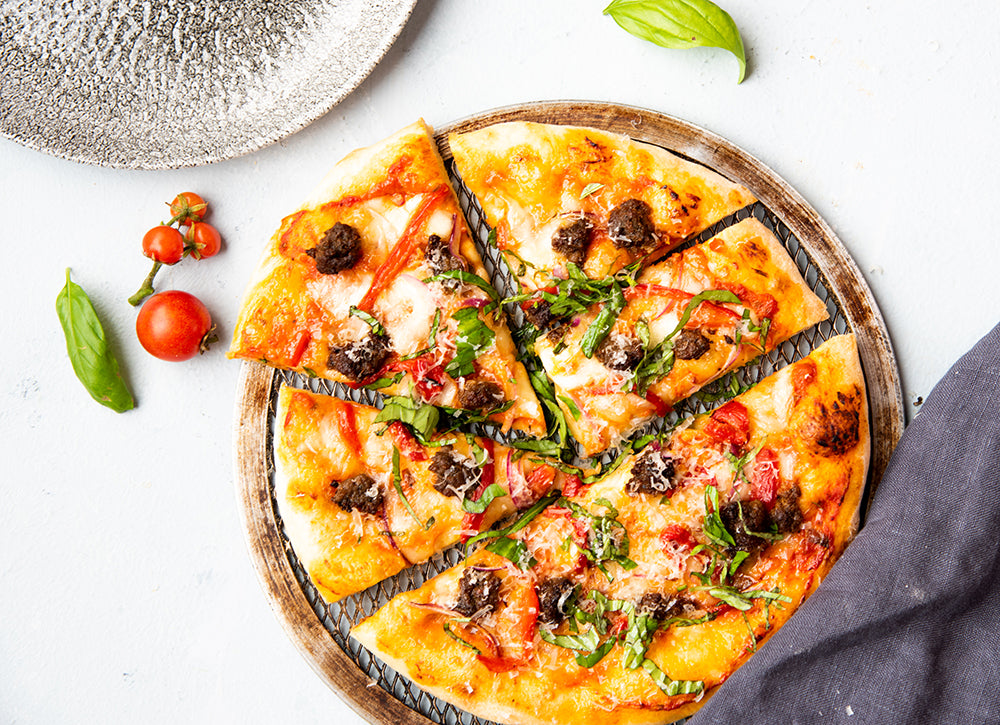 Overview
---
15 MIN
Prep Time
4 HR
Total Time
EASY
Skill Level
4
Servings
Ingredients
---
1 lb Fresh Mozzarella, thin slices
1 c Red Onion, shaved thin
1 c Roasted Red Peppers, sliced
1/4 c Basil, chopped
2 Tbs Fresh Oregano, chopped
1 c Tomato Sauce
1 oz Parmesan Cheese, grated
Pizza Dough, recipe follows
Beef Sausage, recipe follows
2 c All-Purpose Flour
1 c Warm water, 105°
1/4 tsp Instant Dry Yeast
1 Tbs Olive Oil
2 tsp Kosher Salt
1 lb 44 Farms Ground Beef
1 Tbs Fennel Seeds, ground
1 Tbs Italian Seasoning
1/2 tsp Onion Powder
1/2 tsp Garlic Powder
Instructions
---
Preheat oven to 450 degrees.
Once you have your dough in 12 inch round top with 1/2 c tomato sauce, top with sliced mozzarella, beef sausage, red onion, and roasted red peppers.
Bake in oven on a pizza stone for 5-6 minutes or until edges are browned and cheese is bubbly.
Remove from oven and top with chopped fresh basil and oregano and grated parmesan cheese.
Place warm water in stand mixer and sprinkle yeast over top. Let sit for 5 minutes.
With the dough hook attachment, mix on low speed and add salt and olive oil.
Then add flour and mix on low speed until incorporated.
Mix on medium-low speed for 10 minutes.
Turn off mixer and cover dough with a damp cloth for 5 minutes.
After 5 minutes, mix on medium speed for another 10 minutes.
Remove from stand mixing bowl and place in a lightly oiled bowl. Cover with plastic wrap and let sit at room temperature until the dough has doubled in size, about 1 -1 1/2 hours.
Punch down dough and let dough rise again.
After it has doubled in size again, divide the dough into two pieces and roll into two ball shapes. Let rise for 30 minutes and place one dough ball on a floured surface and gently begin to punch down dough into 12 inch round. Repeat with other dough ball.
It is ready to top with your favorite sauce and toppings.
Combine all ingredients together and let sit in refrigerator for 30 minutes or up to overnight.
Heat a large cast-iron pan over medium high heat and place beef sausage meat in hot pan. Using a spatula, break up the sausage to have smaller pieces of sausage. Let cook until well browned, stirring occasionally for even cooking about 6-8 minutes.
Set aside in strainer over a bowl to remove any excess fat. Store in a container until ready to use.
Chef's Tip
Pizza dough can be made a day ahead and proofed overnight in the refrigerator for the first proofing. Beef sausage can be made a day ahead to infuse the flavor of the spices.