Sonoran Hot Dogs (Whole30 Approved)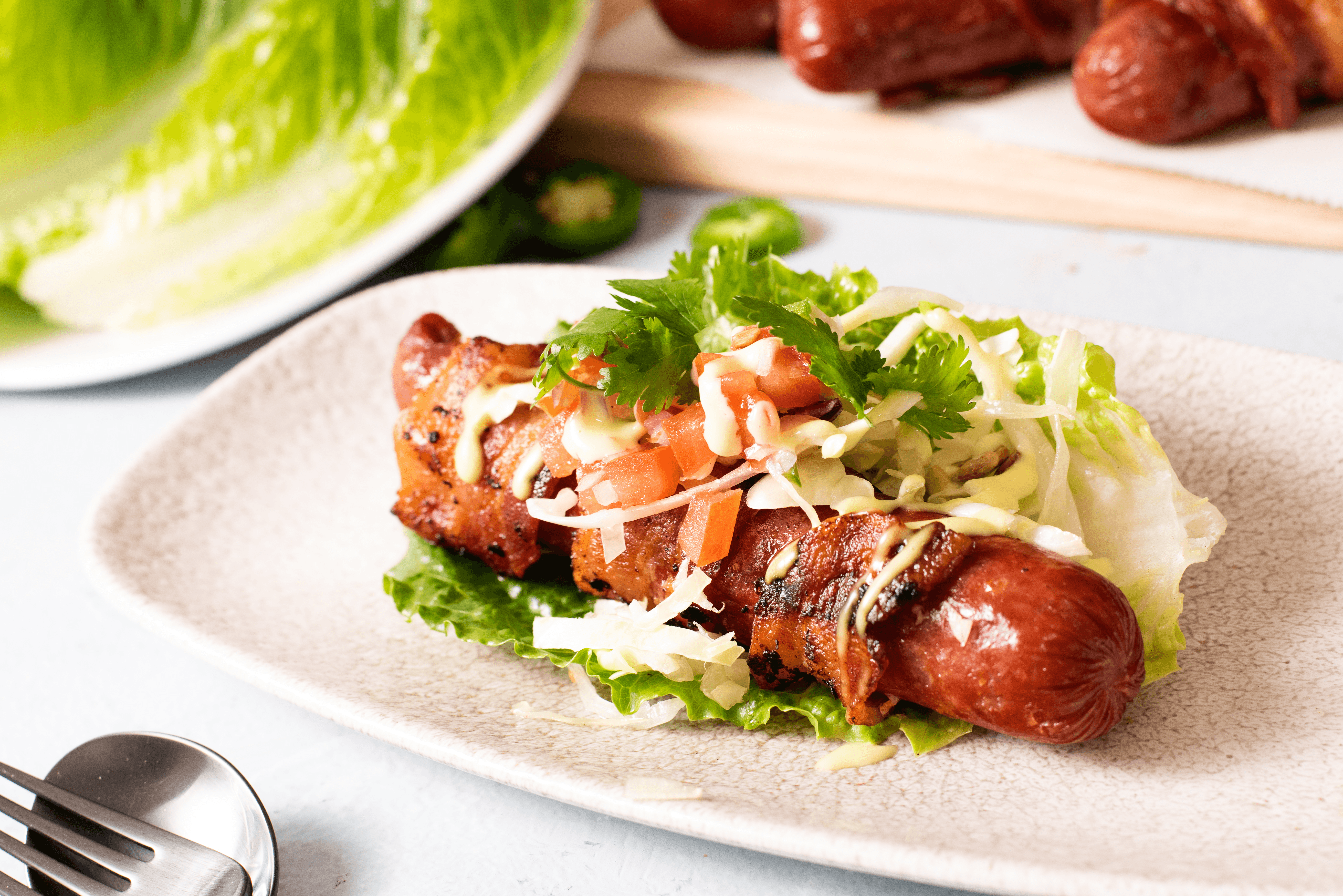 Overview
---
10 MIN
Prep Time
30 MIN
Total Time
EASY
Skill Level
4
Servings
Ingredients
---
4 slices Whole30-approved Bacon* 
1 Egg
2 tsp Lemon Juice
1/2 tsp Kosher Salt
1 c Avocado Oil
2 Tbs Avocado
4 Romaine Leaves
1 Tbs Jalapeños, very finely diced
2 Roma Tomatoes, small diced
1/4 c Red Onion*, small diced
1 Tbs Lime Juice
1/2 c Cabbage, shredded
1/2 c Kale, chopped
2 Tbs Sunflower Seeds
1/4 c Cilantro Leaves
Instructions
---
Wrap each 44 Farms All Beef Frank with one slice of bacon, set aside in refrigerator until ready to grill.
Heat grill over medium heat until ready.
Toss together the tomato, jalapeños, red onion, lime juice and set aside.
In a blender, combine the egg, lemon juice, kosher salt, avocado oil together and blend until combined and thick. Add avocado and blend until smooth. Set aside.
Grill 44 Farms All Beef Franks on all sides until the bacon is cooked through and crispy, about 10-15 minutes.
While the hotdogs are cooking, combine cabbage, kale, avocado oil.
Lay the romaine leaves down on a platter and place the hot dog on top, then top the hot dog with the tomato relish, slaw mix, avocado mayo, cilantro leaves, and sunflower seeds.
Chef's Tip
Whole30 approved bacon is pasture raised and uncured, so no sugar added and additive free. The only ingredients in the bacon should be pork, sea salt, water and celery powder. A cast iron grill pan can be substituted for a grill. It may take 5 extra minutes of cook time. To make Keto-compliant, omit the red onion.