Banh Mi Hot Dog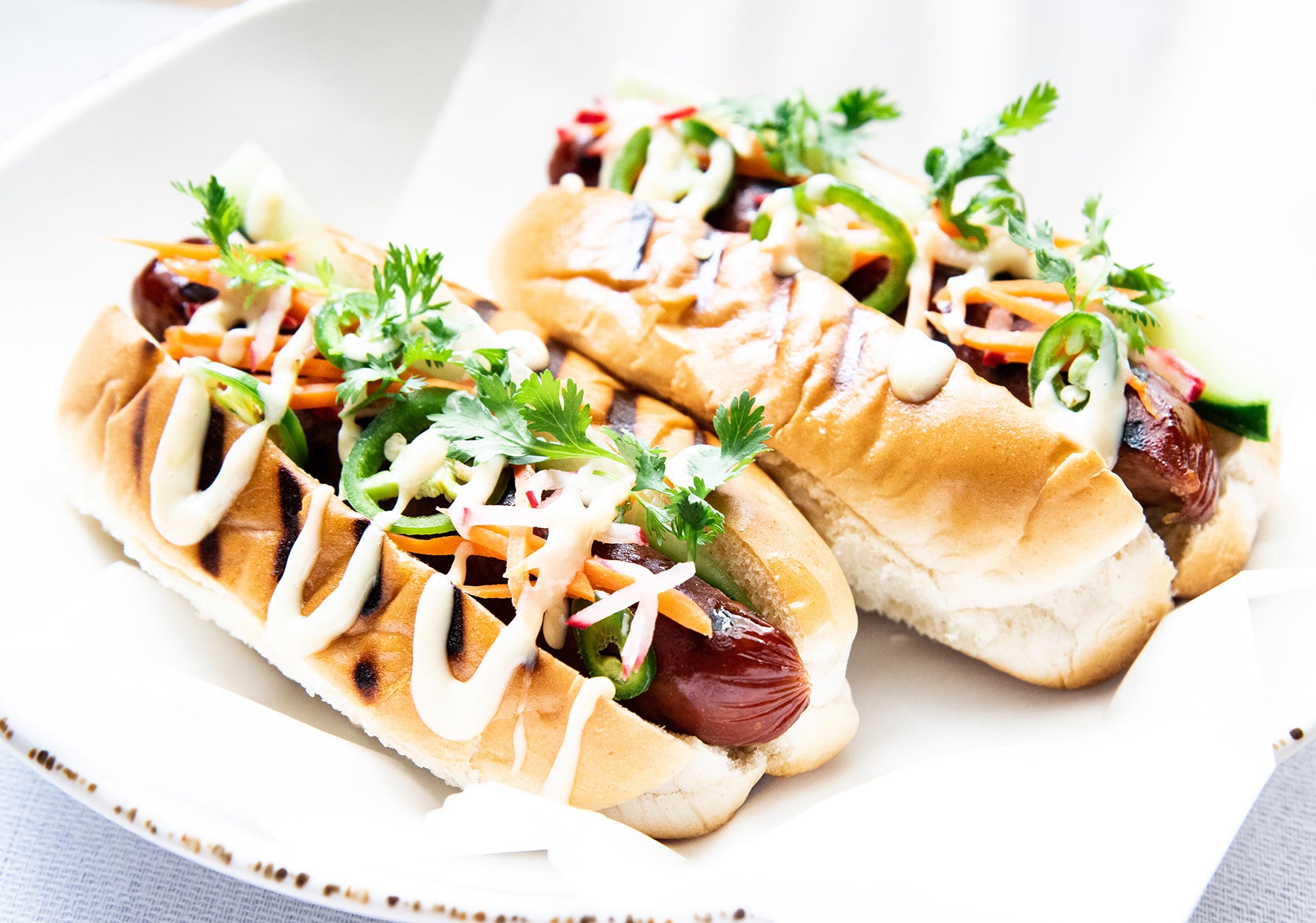 Overview
---
15 MIN
Prep Time
25 MIN
Total Time
EASY
Skill Level
8
Servings
Ingredients
---
1 pkg (8:1) 44 Farms All-Beef Angus Franks
8 Split-Top Hot Dog Buns
1 c Carrots (shredded)
1 c Radish (shredded)
1 1/4 c Water
1/4 c Rice Vinegar
2 Tbs Sugar
1 c Mayonnaise
1 Tbs Lemongrass Purée
2 tsp Lime Juice
1 Tbs Hoisin
2 Jalapeños (sliced thin)
1 Cucumber
1 c Cilantro Leaves
Instructions
---
To make hoisin mayo, combine mayonnaise, lemongrass purée, lime juice and hoisin. Set aside in the refrigerator until ready to use.
In a small pot, combine water, rice vinegar and sugar. Bring to a boil and let cool for 5-10 minutes until about room temperature.
To make pickled carrots and radish, place carrots and radish in a bowl and pour vinegar mix over. Let sit until ready to use.
Cut cucumber into 4-inch long wedges that are very thin, about 1/8-inch thick. Set aside until hot dogs are ready.
Heat your grill to medium-high heat and place franks on to cook for 5–7 minutes. Turn every 2 minutes to create grill marks on all sides of the frank.
Grill buns for 1–2 minutes, until lightly toasted with grill marks.
Place 1 Tbs. hoisin mayonnaise on bun and place hotdog inside bun. Place 2–3 cucumber slices in between bun and frank. Top with pickled carrots/radish, jalapeño slices and cilantro leaves, and drizzle with more hoisin mayo.
Chef's Tip
You can find lemongrass purée in your local grocery store produce herb section. Hoisin mayo and pickled carrot/radish can be made ahead of time and will keep in the refrigerator for a week.