Texas Style Chili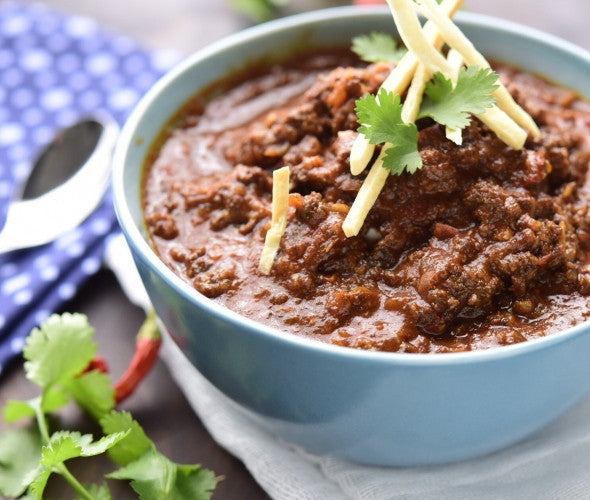 Overview
---
:15
Prep Time
2:00
Total Time
EASY
Skill Level
8
Servings
Ingredients
---
3 Guajillo Chilis (remove seeds and stem)
3 Ancho Chilis (remove seeds and stem)
1 Chile de Árbol (remove seeds and stem)
1 Tbs Oregano (dried)
1/4 c Cumin Powder
1 tsp Coriander Powder
1 tsp Kosher Salt
2 Tbs Oil
1 c Onion (small diced)
1/4 c Garlic (minced)
4 c Water or Chicken Stock/Broth
2 lbs 44 Farms Ground Beef
1 Tbs Chipotle in Adobo Purée (seeds and stems removed before purée)
3 Tbs Masa Flour
1/4 c Apple Cider Vinegar
Chopped Cilantro
Crispy Tortilla Strips
Flour Tortillas
Lime Wedges
Instructions
---
Place guajillo chilis, ancho chilis and chile de arbol in a bowl and cover with 2 cups hot water. Cover with plastic wrap and let sit for 10 minutes.
Purée in a blender until smooth, set aside.
Heat cast iron pot over medium-high heat and cook ground beef for 10 minutes. Use a spoon to break up any large pieces and stir occasionally to ensure even browning. Drain excess fat and remove beef from pot.
In the same pot add in 2 Tbs. of oil and sauté the onions for 3-4 minutes.
Add garlic, cumin, coriander, dried oregano, salt & pepper blend and kosher salt. Sauté for 3 more minutes.
Add in 4 cups chicken stock or water, chipotle adobo purée, ground beef and masa flour to pot.
Bring to a boil and turn down heat to medium-low and simmer for 1 1/2 hours. Stir occasionally so the bottom does not burn.
Finish chili with apple cider vinegar and season with additional salt if needed.
Chef's Tip
This recipe makes a medium spicy chili. You can adjust the chile de arbol and chipotle peppers to make more or less spicy. The chili is best made a day or two ahead of time to allow the flavors to deepen and enhance.