Skirt Steak Fajitas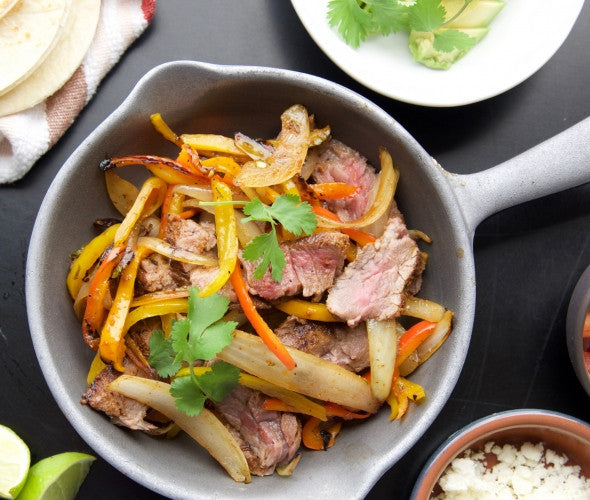 Overview
---
:15
Prep Time
2-24 HOURS
Total Time
EASY
Skill Level
4
Servings
Ingredients
---
2 lbs 44 Farms Skirt Steak
2 Tbs Cumin (ground roasted)
4 tsp Chili Powder
2 Tbs Garlic (minced)
1/4 c Cilantro (chopped)
2 tsp Brown Sugar
2 Tbs Soy Sauce
2 Tbs Worcestershire Sauce
1/2 c Lime Juice
1/2 tsp Lime Zest
1/2 c Canola Oil
1 Red Bell Pepper (seeded and julienned)
1 Yellow Bell Pepper (seeded and julienned)
1 Orange Bell Pepper (seeded and julienned)
1 c Onion (halved and julienned)
1/2 c Cilantro Leaves (chopped)
12 Flour Tortillas
Pico de Gallo
Queso Fresco
Lime
Avocado
Instructions
---
Combine cumin, chili powder and Salt & Pepper blend.
Rub 2 Tbs. of spice mix on skirt steak and set aside in a large plastic zip lock bag for 10 minutes.
Whisk together garlic, ¼ cup cilantro, brown sugar, soy sauce, worcestershire sauce, lime juice, lime zest, and oil.
Add ½ cup of liquid to zip lock bag with skirt steak. Seal bag and massage steak to thoroughly coat in marinade. Place in the refrigerator for 2-24 hours.
Combine remaining dry spice mix and liquid together and set aside.
Heat 2 Tbs. of oil in a cast iron pan over medium high heat. Add onions and caramelize for 4-5 minutes.
Add bell peppers and cook for an additional 3 minutes until soft.
Add reserved marinade and stir until almost evaporated. Remove from heat, toss in chopped cilantro and place in a bowl.
Heat grill or large cast iron skillet over medium high heat.
Remove steak from the bag and pat dry with paper towels.
Place meat on grill and cook for 3-4 minutes on each side. If cooking in an iron skillet, add 1 Tbs. oil.
Remove steaks and let rest for 7 minutes.
Slice the steak against the grain, about 1/2 inch thick wide strips.
Heat tortillas on grill for 10-15 seconds on each side. Wrap in clean kitchen towel to keep warm.
Chef's Tip
Serve with our Green Chile Queso