44 Farms Corn Dog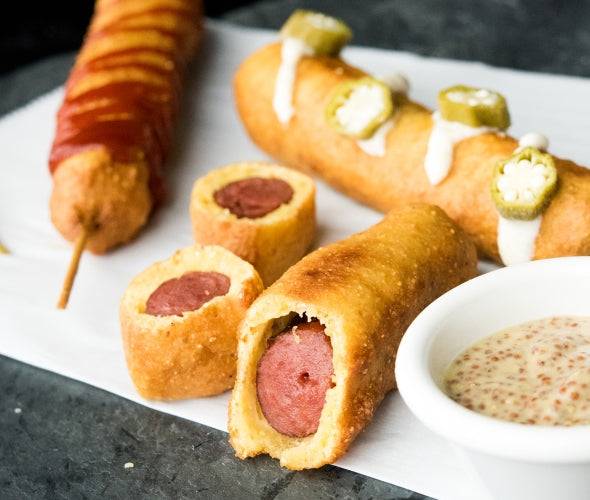 Overview
---
10 MIN
Prep Time
15 MIN
Total Time
EASY
Skill Level
8
Servings
Ingredients
---
Instructions
---
Heat oil in a deep fryer, large heavy-bottom pot or Dutch oven with high sides to 375º.
While oil is heating, skewer franks with 10-12 inch wooden skewers. Set aside.
To make the batter, combine all dry except salt and pepper.
In a blender, combine milk, eggs and salt and pepper and blend for 30 seconds on medium speed, then turn up to high for 10 more seconds.
Stir liquid into dry ingredients until smooth and completely incorporated. Place batter into a tall container for easier dipping of the franks.
Dry off franks with a paper towel before dipping and roll in flour. Tap off any excess flour and then dip into the batter. Let excess batter drop off and gently place corn dog into the oil. Cook for 4-6 minutes, turning corn dog after 2 minutes.
Repeat until all corn dogs are made.
Remove corn dog from oil and place on a paper-lined plate to cool and remove any excess oil.
Serve with your favorite condiments, such as ketchup, mustard, horseradish cream and pickles.
Chef's Tip
If using a pot for deep frying, use a probe digital thermometer to best monitor oil's temperature.