Kid's Veggie Stuffed Beef Sliders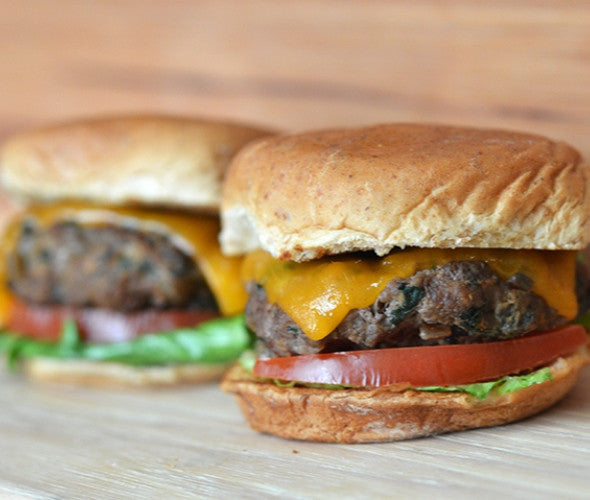 Overview
---
15
Prep Time
45
Total Time
EASY
Skill Level
6
Servings
Ingredients
---
1 lb 44 Farms Ground Beef
2 Slider Buns
2 Tbs canola oil
1 c Diced Portobello Mushrooms
1/4 c Grated Carrots
1 c Chopped Spinach
1/4 tsp Garlic, finely minced
3/4 tsp Kosher Salt
1/4 tsp Ground Black Pepper
6 Tomato Slices
6 pieces of Romaine Lettuce
6 slices of Cheddar Cheese
2 Tbs Dijonnaise
1 c Mayonnaise
1/4 c Dijon Mustard
1/8 tsp Kosher Salt
Pinch Black Pepper
Instructions
---
Heat oil over medium high heat in saute pan. Saute onions until translucent, about 3-4 minutes. Add mushrooms and grated carrot and saute for another 4 minutes. Add in garlic, salt and pepper and saute until spinach is wilted. Remove vegetable mix from the heat and place in a bowl to cool. Once cooled, mix into ground beef.
Divide beef mixture into 6 portions. Roll each portion into a ball and gently flatten into a patty. Refrigerate about 10-15 minutes. Remove from refrigerator and press your thumb in the center of each patty to make a shallow impression.
Heat a grill or a sauce pan over medium high heat for 2 minutes and place beef patties in the pan. Cook for 3 minutes on each side or until thermometer reads 160º. Melt the cheese on top of the slider burgers.
Set aside burgers to rest for a few minutes. While the burgers are resting, spread a thin layer of mayonnaise on the inside of the burger buns and slightly toast in a hot pan.
To build your sliders, place 1 tsp. dijonaise, lettuce and tomato on the bottom buns, then the slider patty, and then the top bun. Serve immediately.
Chef's Tip
Pressing a shallow indentation into the patties will allow the patties to stay even in thickness.Do not press down on your burgers when cooking them as this only squeezes out the juices and makes a dry burger. Layering your garnishes on the bottom bun let's them stay in place nicely and keeps the bottom bun from getting soggy.