FILET MIGNON STEAK SALAD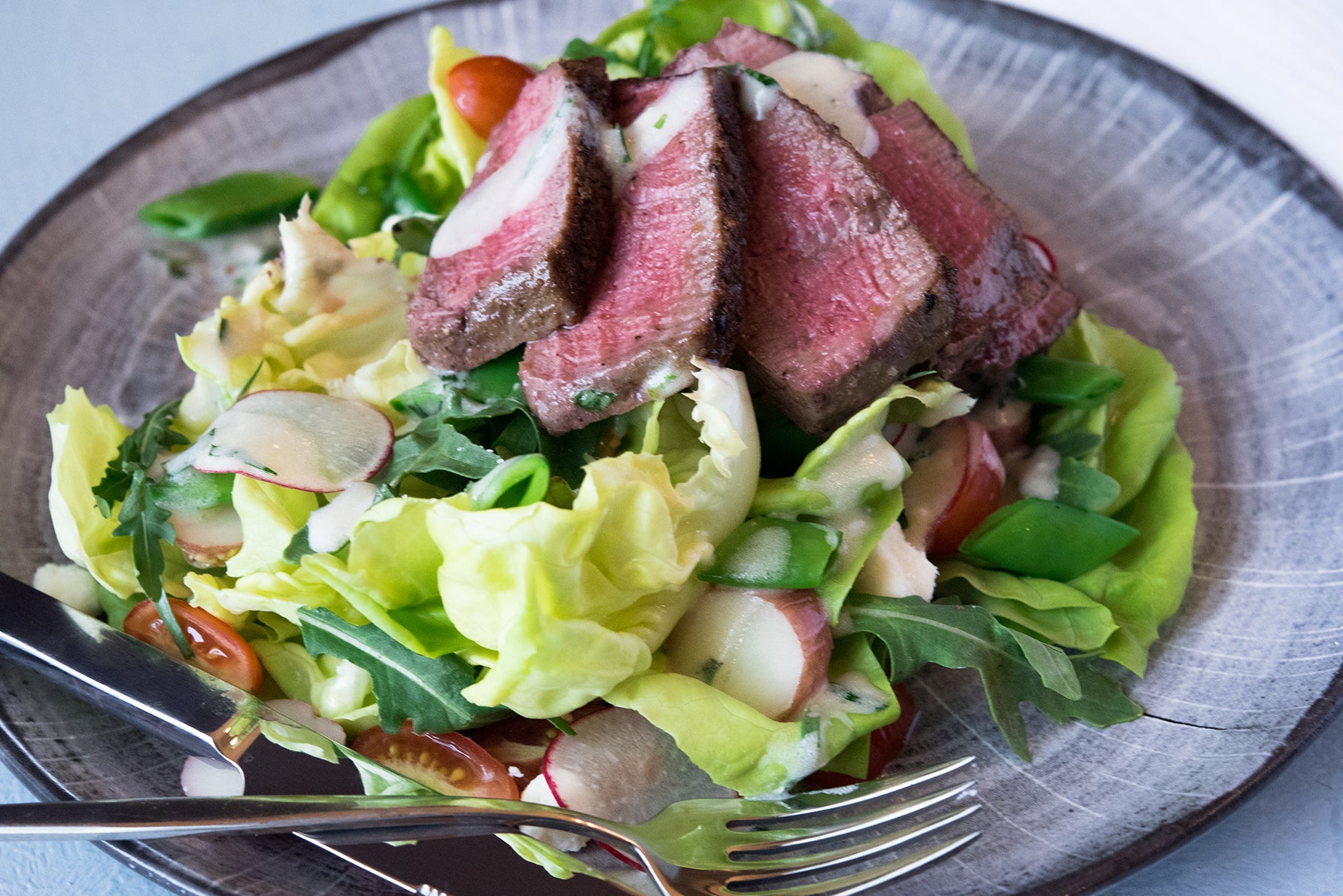 Overview
---
10 MIN
Prep Time
40 MIN
Total Time
EASY
Skill Level
4
Servings
Ingredients
---
1 1/2 tsp 44 Farms Salt & Pepper Blend
2 Bibb Lettuces
2 c Baby Arugula
1 c Sugar Snap Peas
2 Radishes (thinly shaved)
1 c Cherry Tomatoes (halved)
2 c Marble Potatoes
4 oz Goat Cheese (crumbled)
Tarragon Buttermilk Dressing, recipe follows
2 Tbs Tarragon (minced)
3/4 tsp Kosher Salt
2 tsp Dijon Mustard
3 Tbs Whole Milk Greek Yogurt
2/3 c Red Wine Vinegar
1 c Olive Oil
1 tsp Garlic (minced)
1 Tbs Shallot (minced)
Instructions
---
Begin by preparing salad items. Remove bottom of Bibb lettuce and quarter. Pull lettuce apart and clean.
Heat two pots of water and season with kosher salt. Once water is boiling, add snap peas to one pot and potatoes to the other pot.
Have an ice water bath ready. Cook snap peas for 2 minutes and add to ice water bath. Remove after 2 minutes and set aside on a paper towel-lined plate to dry.
Cook potatoes for 5–6 minutes (depending on their size, you may need more cooking time). Add to ice bath and let cool for 3 minutes. Remove from ice bath and let dry on paper towel-lined plate. Halve the potatoes and set aside.
Heat 1 Tbs. canola oil in a cast iron pan until hot. Meanwhile, season each filet with 1/2 tsp. 44 Farms Salt & Pepper Blend. Sear filets for 2 minutes on each side to brown. Place on a baking tray and cook in oven for approximately 8 minutes until the internal temperature reaches 125º for medium-rare steak.
While steaks are cooking, assemble salads.
In a large bowl, add the Bibb lettuce, blanched sugar snap peas, radish, potatoes, arugula and cherry tomato halves. Set aside until steaks are ready.
When filets are finished cooking, let sit for 5 minutes to rest. While they are resting, season salad with 1/2 tsp. 44 Farms Salt & Pepper Blend and then toss 1 c. dressing into salad divided among four plates. Top with crumbled goat cheese.
Slice each filet into 8 slices. Top each salad with 4 slices of filet.
Finish with more dressing, if desired. Serve immediately.
TARRAGON BUTTERMILK DRESSING
Whisk together all ingredients except olive oil.
After all ingredients have been thoroughly incorporated, begin slowly adding olive oil and whisking continuously until all olive oil is added.
Chef's Tip
Adding seasoning to the salad ingredients will ensure you have a great-flavored salad. Season and dress salad right before serving to keep salad ingredients freshest and crunchiest, not soggy, from sitting in dressing too long.