GROUND BEEF STUFFED WINTER SQUASH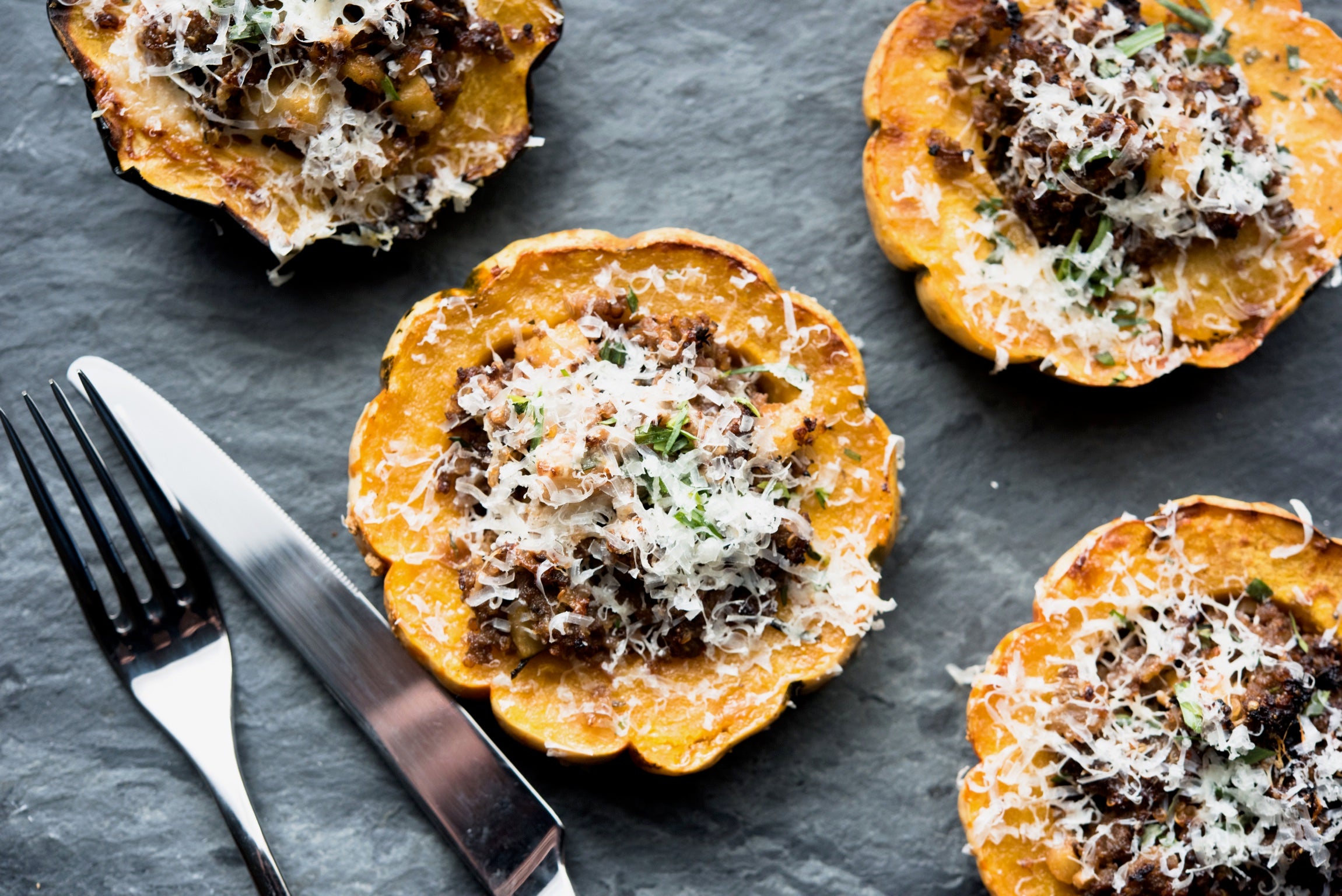 Overview
---
15 MIN
Prep Time
90 MIN
Total Time
EASY
Skill Level
6
Servings
Ingredients
---
1 lb 44 Farms Ground Beef
1 Tbs Fennel Seeds (lightly toasted)
1/2 tsp Paprika
1/2 tsp Smoked Chili Powder
1/2 tsp Onion Powder
1/2 tsp Garlic Powder
1 Tbs Olive Oil
1 Tbs Apple Cider Vinegar
1 Tbs 44 Farms Salt & Pepper Blend
1 c White Onion (small diced)
2 Tbs Garlic (minced)
1 c Apples (peeled and small diced)
1/2 c Chestnuts (chopped)
1 c Quinoa (cooked)
2 Tbs Sage
1 1/2 c Beef Stock
2 c Gruyère Cheese (grated)
3 Winter Squashes
2 Tbs Olive Oil
1 Tbs 44 Farms Salt & Pepper Blend
Instructions
---
Combine ground beef, fennel seeds, paprika, smoked chili powder, onion powder, garlic powder, olive oil, apple cider vinegar and 44 Farms Salt & Pepper Blend in a bowl until thoroughly combined. Place in refrigerator to chill for 30 minutes, or let sit overnight.
Cut tops and bottoms off of each squash and cut in half. Scrap out seeds.
Place squash halves on a foil-lined baking sheet. Drizzle with olive oil and sprinkle with 1 Tbs 44 Farms Salt & Pepper Blend.
Place squash flesh-side down and roast in oven for 25–35 minutes until tender.
While the squash is roasting begin making the filling.
Heat sauté pan over medium-high heat and add 2 Tbs of canola oil. Add onions and sauté for 5-6 minutes until translucent. Add garlic and sauté for two more minutes.
Add beef mix and sauté for about 8 minutes until browned.
Add apples and chestnuts and sauté for three more minutes.
Add beef stock and simmer for about 3–4 minutes until reduced.
Fold in quinoa and sage. Heat through and set aside until ready to use.
When squash is finished baking, remove from oven.
Fold in 1 1/2 c of gruyere cheese into beef mixture.
Fill cavity of each baked squash with beef mixture.
Return to oven and bake for another 10 minutes.
Remove from oven, top with remainder of grated cheese and serve.
Chef's Tip
Winter squash varieties to choose from include: acorn, dumpling, delecata and carnival (just to name a few). The cooked beef mixture and roasted squash can be made a day ahead of time, then assembled and baked the next day when ready to serve.