Green Chili Beef Queso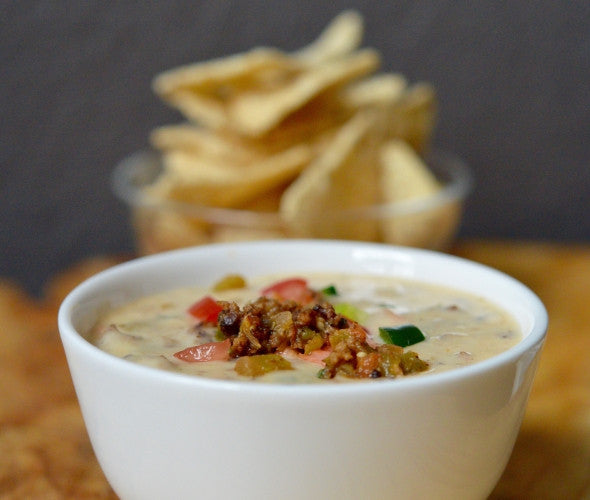 Overview
---
:10
Prep Time
:45
Total Time
EASY
Skill Level
6
Servings
Ingredients
---
1/2 lb 44 Farms Ground Beef
1 tsp Cumin
1/2 tsp Onion Powder
1/4 tsp Garlic Powder
3/4 tsp Salt
1/4 tsp Black Pepper (ground)
1 c Hatch Chili Peppers or Anthems (diced small)
1 c Onions (diced small)
1/2 c Tomatoes (diced small)
1/2 c Tomatillos (diced small)
1/4 c Cilantro
1 Tbs Lime Juice
2 c Monterey Jack Cheese (shredded)
2 c Sharp Cheddar Cheese (shredded)
1/4 c Butter
1/4 c Flour
4 c Whole Milk
2 c Heavy Cream
Instructions
---
In a large cast iron pot, cook ground beef with spices (cumin, onion powder, garlic powder, salt and pepper) until cooked through (about 10 minutes). Make sure to break up any large pieces.
Add onions and peppers and cook until tender (about 5 minutes).
Lower heat to medium/low and add 1 cup of water, tomatoes and tomatillos. Cook for another 20 minutes.
Remove from heat. Add cilantro and lime juice.
In a separate pot melt butter over medium/high heat. Add flour and stir for 2 minutes.
Slowly add milk and cream whisking continuously. Whisk until it begins to bubble. Let bubble for one minute and remove heat.
Stir in cheese until completely smooth. Then add ground beef and stir to combine.
Serve immediately with tortilla chips.
Chef's Tip
If you are preparing in advance, you will need to keep the cheese sauce and beef mixture separate. When ready to serve, reheat the cheese sauce and beef mixture separate from each other and mix together when hot.