EVERYTHING PRETZEL HOT DOGS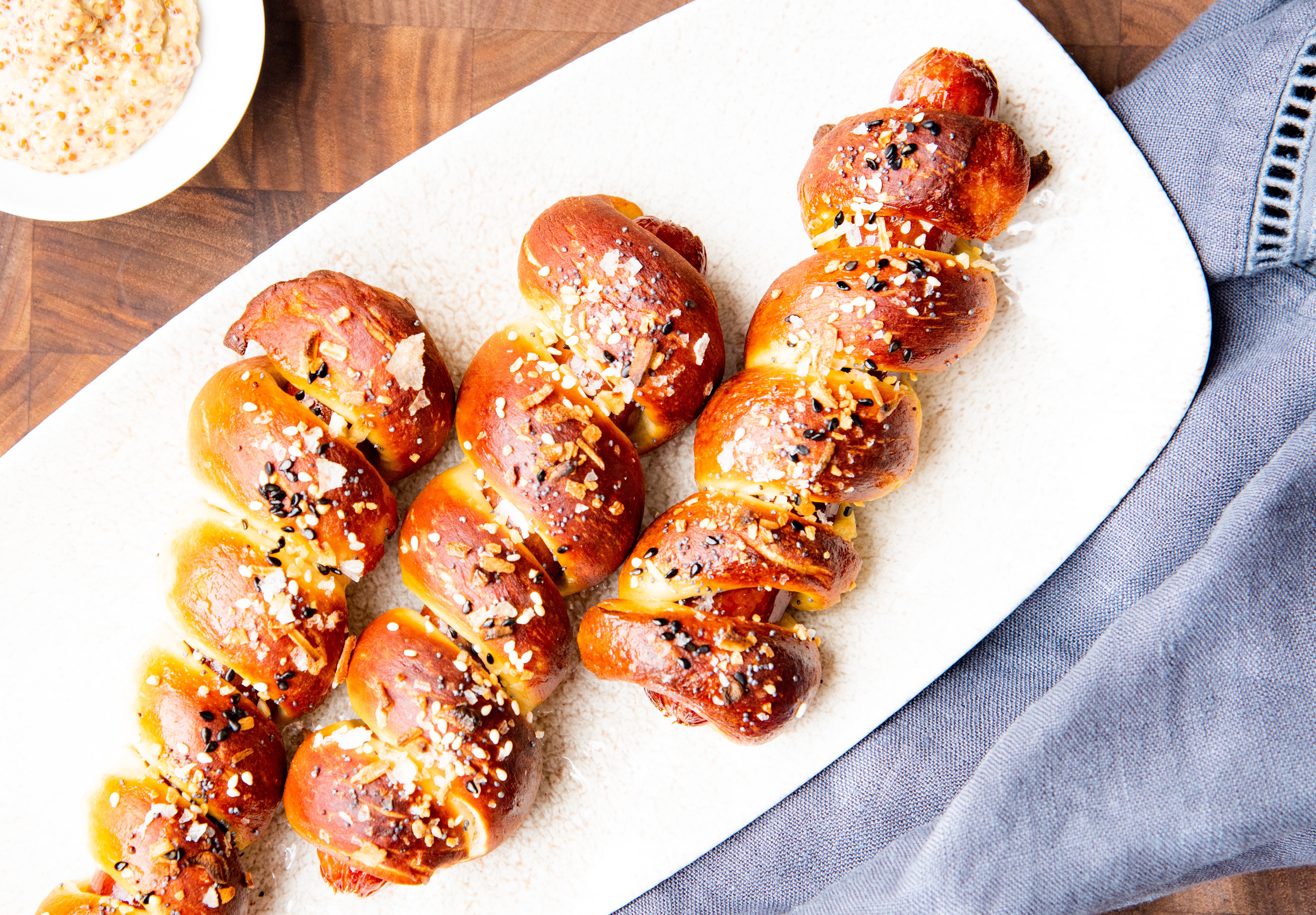 Overview
---
10 MIN
Prep Time
2 HR
Total Time
INTERMEDIATE
Skill Level
8
Servings
Ingredients
---
(8) 2 oz 44 Farms Beef Franks
1 c Whole Milk, 110 degrees
1/4 c Brown Sugar
1/4 oz Active Dry Yeast
2 Tbs Canola Oil
2 3/4 c All-Purpose Flour
1/3 c Baking Soda
1 Egg (beaten with 1 Tbs water)
2 Tbs Poppy Seeds
2 Tbs Black Sesame Seeds
2 Tbs White Sesame Seeds
2 Tbs Onion Flakes
2 Tbs Garlic Flakes
2 Tbs Maldon Sea Salt
1 c Whole Grain Mustard, for serving
Instructions
---
In a large bowl, combine warm milk and brown sugar, whisk until dissolved. Sprinkle yeast on top and let stand until foamy, about 4-5 minutes.
Stir canola oil and 1 1/2 c flour. Remove from bowl and knead in the remaining 1 1/4c flour for about 4 minutes. If dough is really sticky, add additional 2 Tbs of flour.
Transfer dough to oiled bowl and cover with plastic wrap. Let sit at room temperature for 1 hour or until doubled in size.
Preheat oven to 400 degrees and line sheet pans with parchment and grease lightly.
Punch down dough and turn out onto a lightly floured surface. Cut dough into eight equal portions and roll each piece into 16 inch long rope.
Wrap each hot dog with dough and press each end to secure tightly. Place on greased parchment trays and let dough rise again for 20 minutes.
Heat 1 qt water in large saucepan, add baking soda and reduce heat to medium. Add two to three pretzel dogs to pot and let simmer gently for 30 seconds. Remove from pan and let drain on paper towel. Transfer back to sheet pans. You may need to adjust dough on the hot dog if it came loose while in the baking soda water.
Repeat with all pretzel hot dogs.
Once all pretzel hot dogs are done, brush each one with egg wash and sprinkle with the poppy seeds, white and black sesame seeds, onion and garlic flakes, and Maldon sea salt.
Bake for 8-10 minutes, until deep brown. Turn pan halfway through baking.
Remove from oven and let cool slightly before serving.
Chef's Tip
Cooking the dough in the baking soda water bath will give the pretzel flavor for the dough. Add 1/4 c of additional water to baking soda water in between each batch.