CRANBERRY PECAN BREAD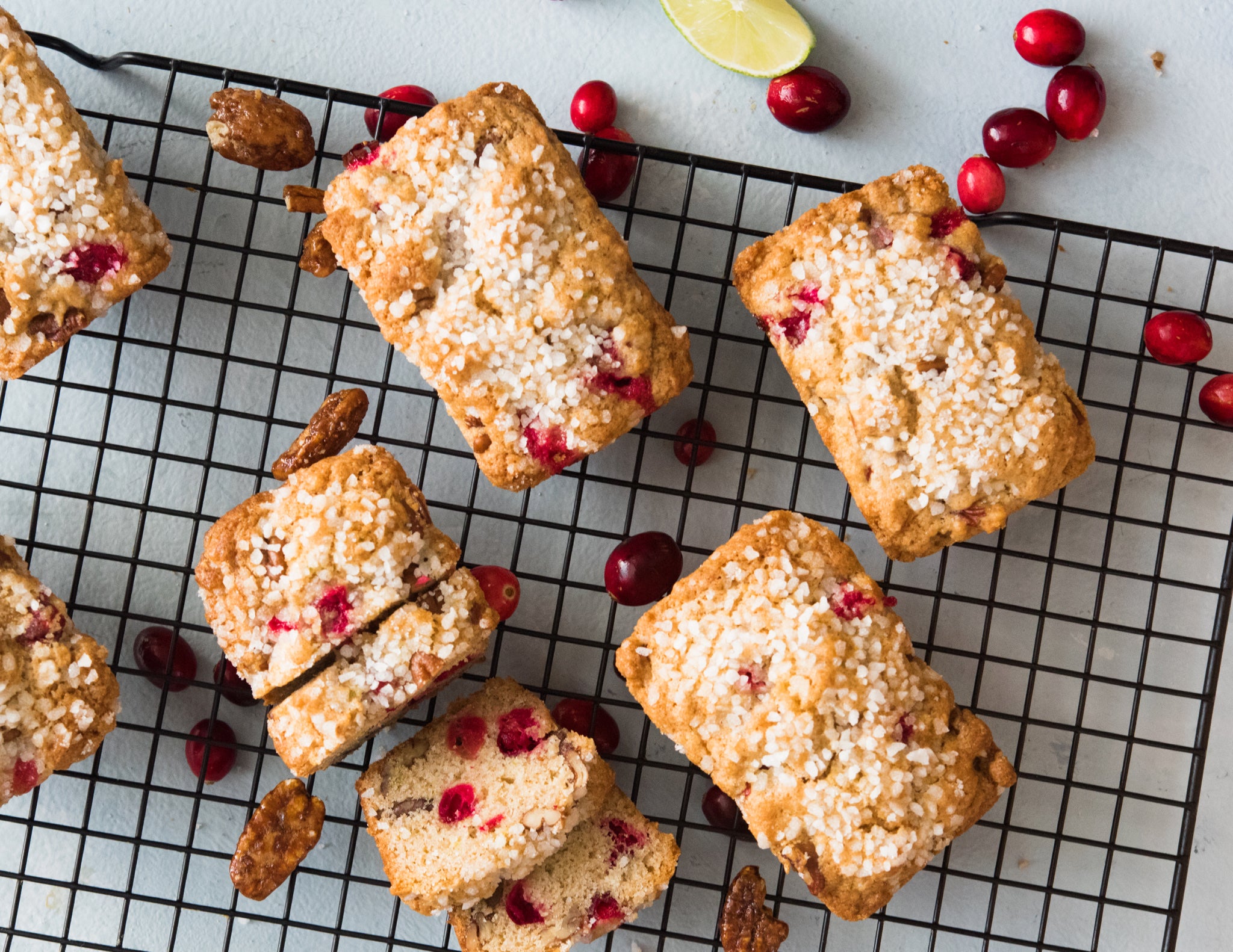 Overview
---
5 MIN
Prep Time
40 MIN
Total Time
EASY
Skill Level
12
Servings
Ingredients
---
3 c All-Purpose Flour
1/2 c Whole Wheat Flour
2 c Sugar
2 Tbs Lime Zest
4 tsp Baking Powder
1/4 tsp Baking Soda
1 tsp Kosher Salt
1 tsp Cinnamon (ground)
1/8 tsp Nutmeg (grated)
4 Eggs
1 c Canola Oil
1/2 c Low-Fat Buttermilk
2 Tbs 44 Farms Wildflower Honey
3 c Fresh Cranberries (halved)
1 1/2 c 44 Farms Honey Toasted Pecans (chopped) (in-store purchase)
1 1/2 c Swedish Pearl Sugar
Instructions
---
Grease 12 mini loaf pans, 3" x 2.5".
In a large bowl, combine both flours, sugar, lime zest, baking powder, baking soda, kosher salt, cinnamon and nutmeg. Stir until completely combined.
Stir in cranberries and 44 Farms Honey Toasted Pecans.
In a medium size bowl, whisk together eggs, oil, buttermilk and 44 Farms Wildflower Honey.
Add wet ingredients into dry and stir until all dry ingredients have been incorporated. Dough will be a little stiff.
Divide dough between the 12 mini loaf pans.
Top each dough with 1 Tbs of pearl sugar.
Bake 25–30 minutes or until a toothpick inserted in the center comes out clean.
Remove from oven and let cool on a wire rack for 10 minutes.
Remove bread from the loaf pans and let cool completely on wire rack.
Cover with plastic wrap until ready to serve.
Chef's Tip
This bread can also be baked in larger loaf pans, if desired. Use two 9" x 5" or 8" x 4" pans and bake for 55–60 minutes. Bread can be made the day before and is best 1–2 days after baking.