All-American Dog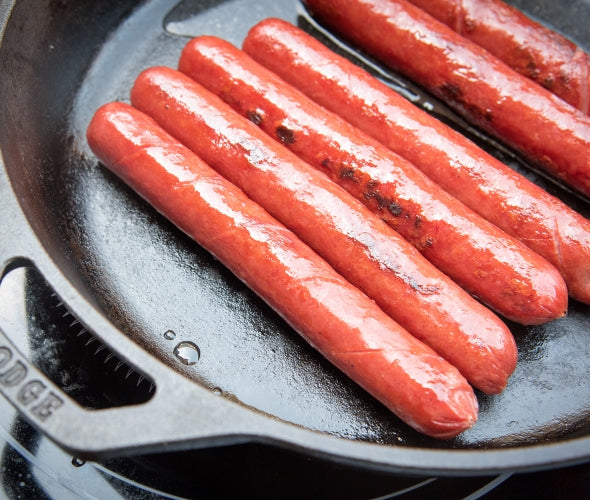 Overview
---
5 MIN
Prep Time
20 MIN
Total Time
EASY
Skill Level
8
Servings
Ingredients
---
(8) 2 oz 44 Farms All Beef Angus Franks
8 Split-Top Hot Dog Buns
2 Whole Dill Pickles (cut into 1/4" wedges)
1 pkg Kettle Cooked Potato Chips
1 lb Shredded Cabbage or Slaw Mix
1 c Celery, thin sliced on a bias
1 c Mayo
1/4 c Apple Cider Vinegar
1/2 tsp 44 Farms Salt & Pepper Blend
2 tsp Dijon Mustard
1 Tbs Lemon Juice
1/4 c Tarragon (chopped)
1 Tbs Honey
Instructions
---
Heat a Lodge skillet over medium-high heat and lightly oil the pan.
While pan is heating, score hot dogs with a sharp knife.
Prepare slaw dressing by combining mayo, vinegar, Dijon, lemon juice, Salt & Pepper Blend, tarragon and honey. Whisk until combined.
Toss dressing with cabbage and celery and set aside.
Place hot dogs in hot Lodge pan and sear. Turn hot dogs for even cooking for approximately 5-6 minutes. Add 2 Tbs water to pan and let simmer until all water has evaporated. Remove hot dogs from the pan.
Build hot dogs by placing two pickle slices in each bun. Top with hot dog, coleslaw and potato chips.
Chef's Tip
Scoring hot dogs before cooking will ensure they do not burst while cooking.