44 Farms Wildflower Honey Churros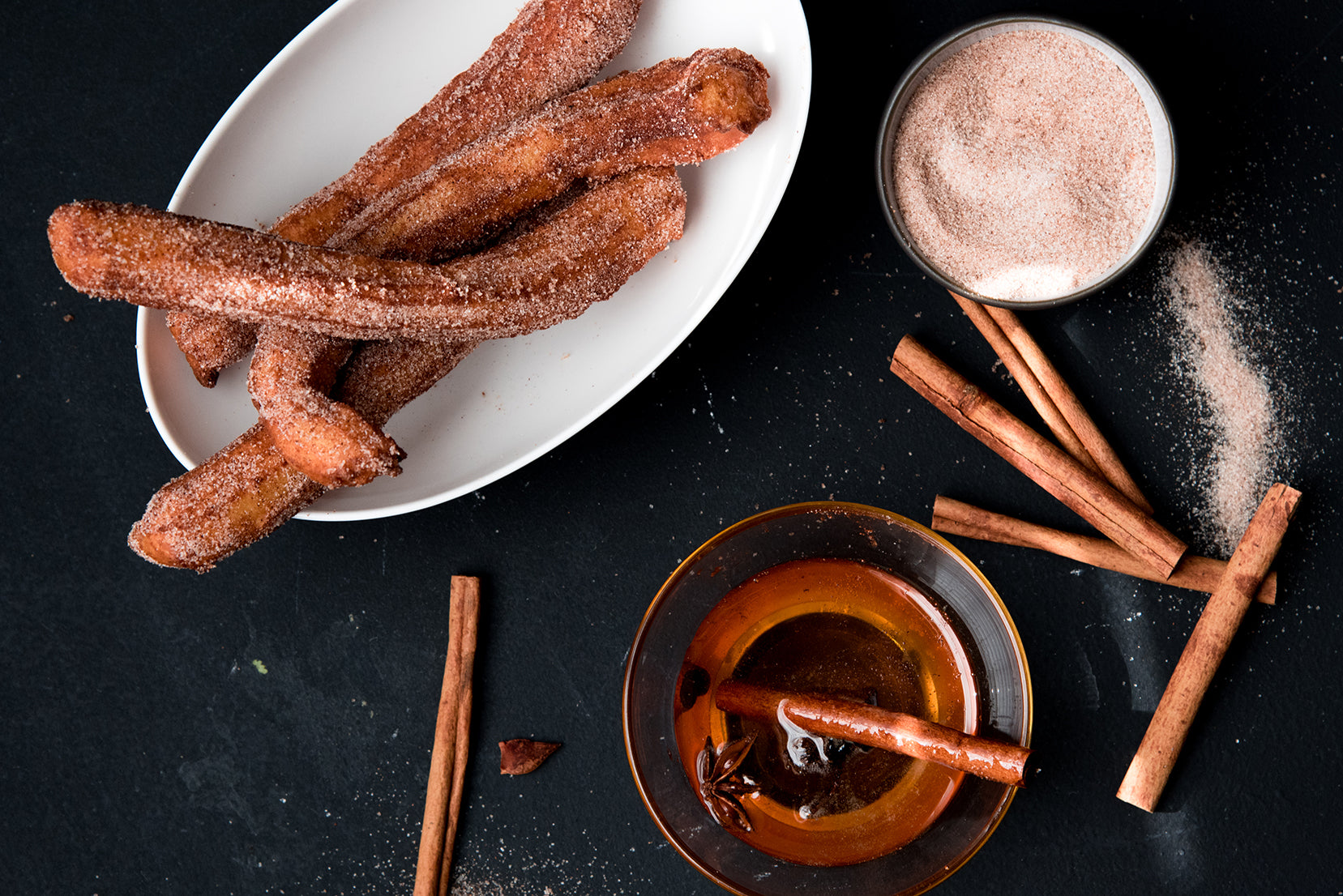 Overview
---
5 MIN
Prep Time
2 HR 20 MIN
Total Time
MEDIUM
Skill Level
4
Servings
Ingredients
---
1/2 c Water
1/2 c Milk
6 oz Butter
1 Tbs Sugar
1/4 tsp Kosher Salt
1 c Flour
1 Egg
1/2 c Sugar
2 tsp Cinnamon
2 qts Canola Oil, for frying
1 Cinnamon Stick
1 Tbs Water
2 Star Anises (whole)
1 piece Orange Rind (about 2 inches)
Instructions
---
In a sauce pan, combine water, milk, butter, sugar and salt. Bring to a slight boil and turn down heat.
Add flour and stir with a wooden spoon for 4 minutes to dry out the dough.
Remove from heat and let cool down slightly.
Add egg and stir quickly into the dough (dough will still be a little warm, and you don't want to cook/scramble the egg).
Once dough is completely mixed and smooth, place in the refrigerator to let cool completely, about 2 hours.
While dough is cooling, combine 44 Farms Wildflower Honey, water, cinnamon stick, star anise and orange peel together and bring to a simmer. Turn off heat and let sit until ready to serve churros.
Once dough is chilled, place in a piping bag with a half inch star tip.
Place enough oil in a large cast iron pot to fill to about two inches. Heat to 350º.
Meanwhile, mix together 1/2 c. sugar and cinnamon in a bowl.
Once oil is hot, begin piping 6-inch churro dough into the hot oil (you may only be able to do 4–5 at a time). Cook for 3–4 minutes, turning half way through frying. Place cooked churros on a paper towel to absorb any oil.
Toss churros in cinnamon sugar mixture and serve with honey dip.
Chef's Tip
Churro dough can be made up to 8 hours ahead of time before using. Serve cooked churros immediately after frying for best results.