TIRAMISU WITH BLACK BULL BLEND COFFEE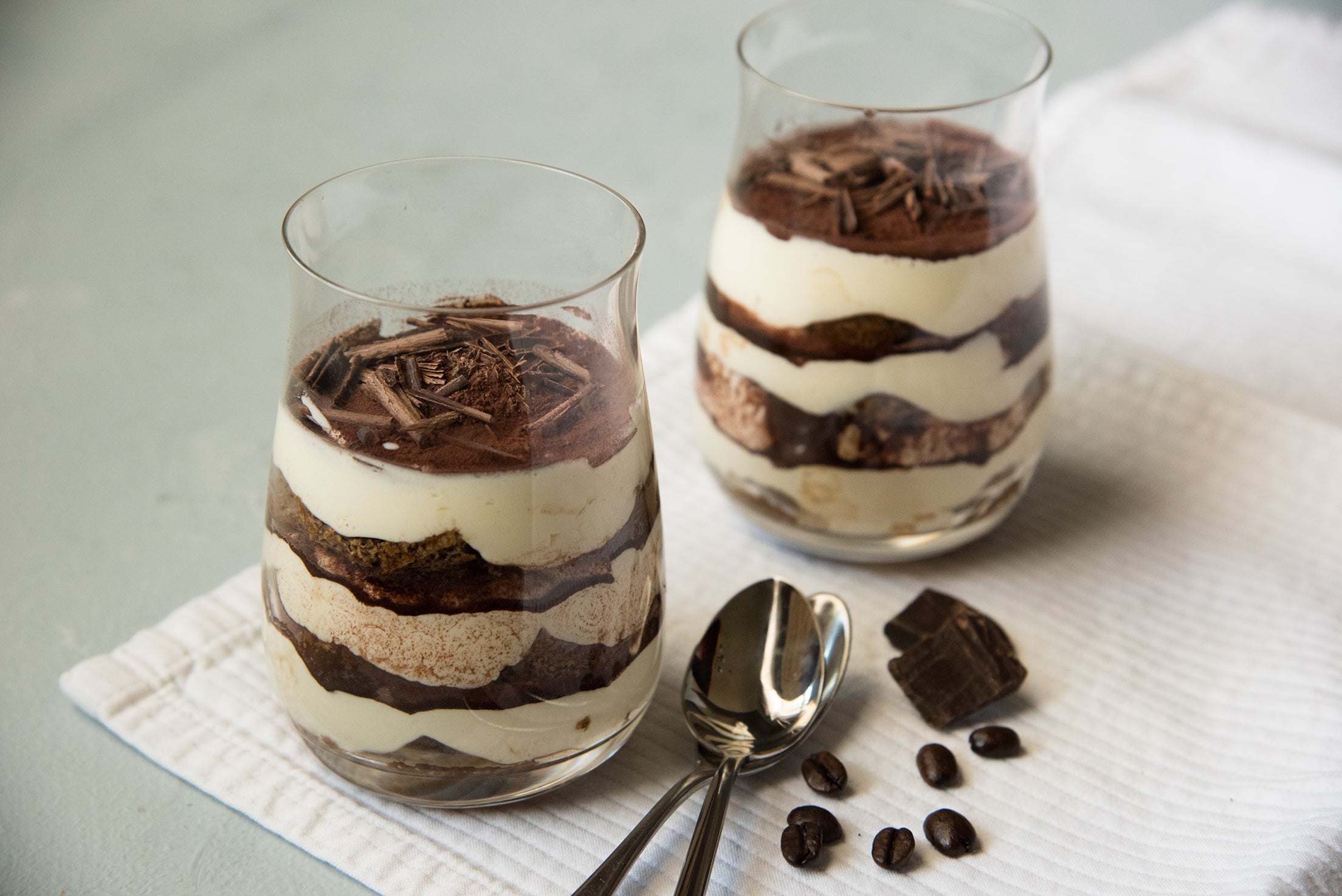 Overview
---
3 MIN
Prep Time
25 MIN
Total Time
EASY
Skill Level
4
Servings
Ingredients
---
1 Tbs Dark Cocoa Powder
1 Tbs Powdered Sugar
1 Tbs 44 Farms Black Bull Blend Coffee (finely ground)
2 c Hot Water
1 oz Sweet Marsala
3 Eggs
1/3 c Sugar
16 oz Mascarpone, room temperature
16 Ladyfingers
Dark Cocoa for dusting
Chocolate Shavings for garnish
Instructions
---
First, prepare coffee syrup for soaking the lady fingers. Prepare 44 Farms Black Bull Blend coffee by placing it in a French press and pouring 2 c of hot water over top. Let steep for 3 minutes, or longer if desired, and then press down. You can use a coffee filter or machine if you do not have a French press.
Combine coffee, cocoa, powdered sugar and sweet marsala together and whisk until combined. Set aside.
Heat a 3–4 quart pot with 2 inches of water and bring to a boil. Turn down to a low simmer.
Place eggs and sugar in a Kitchen Aid mixing bowl and place over simmering water. Do not let bowl touch water, and whisk continuously until egg mixture heats to 160º, about 3-4 minutes.
Place bowl on mixer and begin to beat egg mixture with whip attachment.
Beat warm egg mixture on medium-high speed for 10 minutes, until mixture is thick.
Add mascarpone cheese, and mix on medium-high speed for three minutes. There will be a few small lumps of the mascarpone in the mixture. This is ok, they will eventually smooth out. Place mixture in a piping bag and snip the end to allow a half-inch hole.
To assemble the tiramisu, place two of the lady fingers in the syrup and let soak until they begin to soften, about one minute.
Cut in half and place in the bottom of the glass.
Pipe 3–4 ounces of the mascarpone mixture on top of the lady fingers. Dust with dark cocoa powder. Repeat for a second layer. Garnish with chocolate shavings. Repeat with the three remaining glasses.
Chef's Tip
Using a water bath to heat the eggs helps coagulate them to ensure they whip up well. The sweet marsala can be omitted for an alcohol-free dessert.