Grilled NY Strip Steak Salad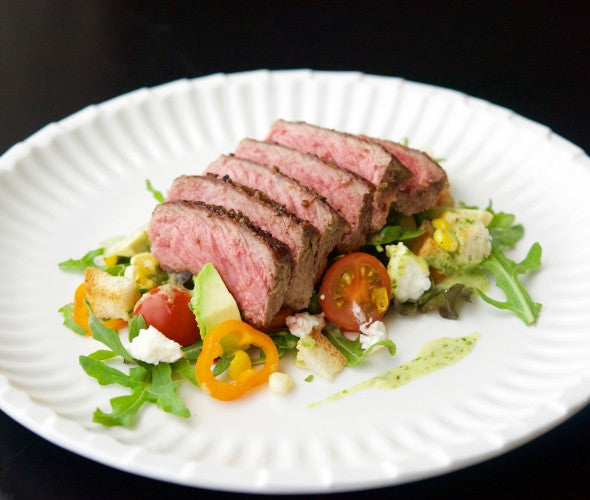 Overview
---
:20
Prep Time
:30
Total Time
EASY
Skill Level
4
Servings
Ingredients
---
(2) 14 oz 44 Farms NY Strip Steaks
1 Tbs Canola Oil
1 c Corn Kernels
1/2 c Feta Cheese (crumbled)
1/2 c Heirloom Cherry Tomatoes (halved)
4 oz Baby Arugula
4 oz Red Oak Lettuce
1 Avocado (medium diced)
4 Sweet Peppers (deseeded and thinly sliced)
1 c Croutons
Cilantro Chimichurri Dressing
1/3 c Cilantro Leaves
1/3 c Parsley Leaves
1 Tbs Oregano Leaves
1 tsp Garlic
2 Tbs Red Onion
1 Tbs Honey
1/4 c Red Wine Vinegar
2 Tbs Lime Juice
1/4 tsp Red Pepper Flakes
3/4 tsp 44 Farms Salt & Pepper Blend
1/4 c Canola Oil
1/4 c Extra Virgin Olive Oil
Instructions
---
"CILANTRO CHIMICHURRI DRESSING"
Combine all ingredients except oils in a blender.
Puree until smooth and slowly add in oil while the blender is running on medium-low speed.
Remove from blender and chill in refrigerator for 30 minutes before serving.
Heat grill to high heat. Brush the steaks with oil and season with 1 tsp. of Salt & Pepper blend on both sides.
Grill for 3 minutes on both sides for medium rare, 4 minutes on each side for medium and 5 minutes on each side for medium well.
Remove from grill and rest for 5 minutes.
While steak is resting, prepare salad.
Toss corn kernels with 1 tsp. of oil and season with 1/2 tsp. of kosher salt. Roast in oven for 3 minutes. Set aside to cool.
In a large bowl, toss together arugula, red oak, roasted corn, tomato halves, sweet peppers and dressing. Divide the salad mix into four bowls. Top each salad with avocado, feta cheese, and croutons.
Thinly slice each steak against the grain and place on top of salads and serve.
Chef's Tip
Dressing will hold in refrigerator for up to two days before using.