Grilled Skirt Steak Quesadillas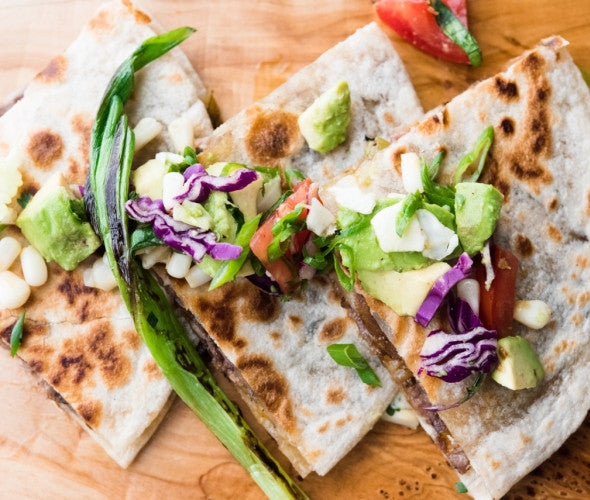 Overview
---
:10
Prep Time
:45
Total Time
EASY
Skill Level
4
Servings
Ingredients
---
2 lbs  44 Farms Skirt Steak
1/4 c Cilantro (finely chopped)
1/4 c Oregano (finely chopped)
2 Tbs Cumin (ground)
2 tsp Ancho Chili Powder
2 tsp Onion Powder
1 tsp Garlic Powder
1/4 c Canola Oil
2 Tbs Lime Juice
2 c Onions (thinly sliced)
1 Anaheim Pepper (thinly sliced)
1/4 c Canola Oil
1 Tbs Kosher Salt
(8) 10-inch Flour Tortillas
1/2 c Scallions, green part (thinly sliced)
2 c Oaxaca Cheese (shredded)
1 c Colby Jack Cheese (shredded)
Instructions
---
Mix together in a large bowl or zip lock bag cilantro, oregano, cumin, ancho chili powder, onion powder, garlic powder, salt and pepper blend, oil and lime juice.
Add skirt steak to spice mixture and mix thoroughly so the beef is coated evenly with spices. Set aside, and let marinate for 30 minutes.
While beef is marinating, heat a cast iron pan over medium heat. Add 2 Tbs of canola oil and add in onions and Anaheim peppers.
Saute until onions and peppers are soft and slightly browned on the edges, and season with 1/2 tsp of kosher salt. Set aside.
When the grill is hot, place skirt steak on and grill on both sides for 3-4 minutes.
Remove from grill, and let rest for 5-10 minutes before slicing.
After steak has rested, you will need to cut it in two or three pieces, depending on the length. Then, cut against the grain in 1/2 inch slices.
Add skirt steak to onion and peppers.
Add in shredded cheese and scallions, and mix thoroughly.
Place one flour tortilla on a hot cast iron pan and top with a quarter of the mixture and a second tortilla. Flip and crisp the other tortilla to finish. Repeat three more times with other tortillas.
Chef's Tip
If you do not have a grill, you can sear the skirt steak in a cast iron pan over medium high heat for 3 minutes on each side. If you can't find Oaxaca cheese in your grocery store, a Mexican cheese blend will work great too. Serve quesadillas with an avocado, corn and tomato salad.